Better way to use mobile overseas
03-05-2018 | Global Updates
Any overseas trip can be spoiled by the thought of having to pay exorbitant international roaming charges for using your smartphone or laptop.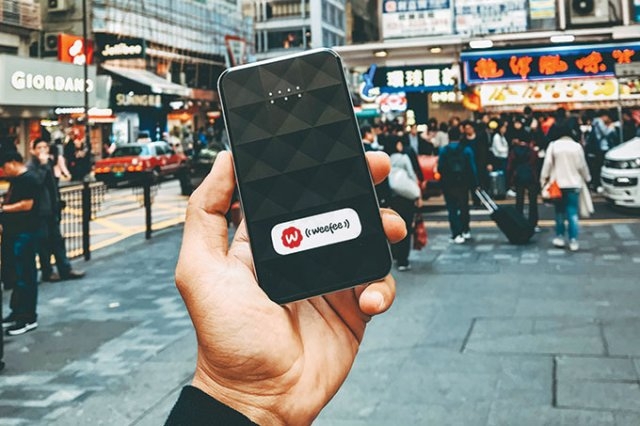 Thirty-year-old Ms. Pham Thu Quyen from Hanoi's Nam Tu Liem district, who used her phone sparingly on a recent four-day trip to Singapore, was surprised to receive a bill for roaming of VND4 million ($177). "I don't mind paying something, but $177 for four days is expensive," she complained.
Ms. Quyen is one of many travelers that used their smartphones while overseas in the same way they use it at home, checking emails, updating Facebook, Instagram or Twitter, and looking at maps, and then been hit with a hefty bill for roaming charges or other confusing fees.
To help them and others avoid the pitfalls of roaming and have a hassle-free trip, two young men in Hanoi decided to get the Weefee startup going, which provides a small router that allows people to connect mobile data to the internet in the more than 48 countries where Weefee has partnered with local network providers.
Weefee's modern pocket wi-fi devices are tiny but can connect up to ten devices simultaneously and offer fast 4G connection. Rentals run from VND80,000 to VND200,000 ($4 to $8) per day for five users or five connected devices; far lower than any possible roaming costs and SIM purchases or the cost of renting a similar device at the destination.
Unlike Ms. Quyen, 28-year-old Ms. Nguyen Kieu Ly had heard about Weefee through an advertisement on Facebook. "I usually pay about VND2 million ($90) in roaming charges for each business trip abroad of three days," she said. "Recently, though, with Weefee's service, I paid just VND480,000 ($20) for a four-day business trip in Singapore."
The device is also easy and simple to use. All it has is an on/off button, which users need only click to turn the device on and open a wi-fi network, while the ID and password are on the bottom of the device. If customers cannot access wi-fi when using Weefee due to some fault of the device, Weefee will return 80 per cent the rental fee for the days when access wasn't possible.
Tourists no longer have to waste time preparing their travel communications, buy a SIM card upon arrival, or consider how to stay connected with their family or work while overseas. "I just need to book a day before I head out, and Weefee has quick delivery," Ms. Ly said.
Weefee was established last July so it may be too early to find significant success. Mr. Le Thai Bao, Co-founder and Marketing Director of Weefee, told VET that this is a new field in Vietnam and investing resources and improving customer awareness are major challenges.
In the early days, Mr. Bao remembered, Weefee faced obstacles in balancing growth and controlling costs. "For a small company, recording high growth within the first few months is good news but this is then followed by a need for more staff and higher product quantities and other costs," he said. "We have to control costs and allocate our resources appropriately, or there will be consequences such as shrinking budgets and overloaded operations."
Agreeing, Mr. Phan Nguyen Van Truong, Co-founder and CEO of Weefee, told VET that, in fact, some previous providers invested in and educated the market about similar products but were ineffective.
Both believe that tourism holds great potential for any travel service provider. To compete, Weefee creates more convenience, with coverage in 48 countries, and in popular destinations such as South Korea, Japan and Taiwan it offers unlimited 4G connection. Compared with traditional telecom service providers, Weefee has improved its registration process and equipment delivery, with all transactions completed in Vietnam and the device being ready for use immediately.
Starting with a modest investment of about $100,000, the Weefee team recorded impressive figures in its first six months. According to Mr. Truong, monthly revenue rose 30 to 40 per cent monthly during this time and revenue now stands at about VND500 million ($22,200) a month.
Weefee's next plan is to have a presence at Tan Son Nhat and Noi Bai International Airports, with preparations now in their final stages for opening a counter at Tan San Nhat. "Weefee is not the only company in this line of business, so a presence at major airports like Tan Son Nhat and Noi Bai would be helpful in dominating the market," Mr. Bao said. Weefee also expects to expand to Da Nang and Nha Trang at some point in the future.
Vietnam Economic Times