4G network operators launch super-cheap packages
18-01-2018 | Vietnam Telecom
All the three large mobile network operators, VinaPhone, Viettel and MobiFone, have geared up for the 4G race.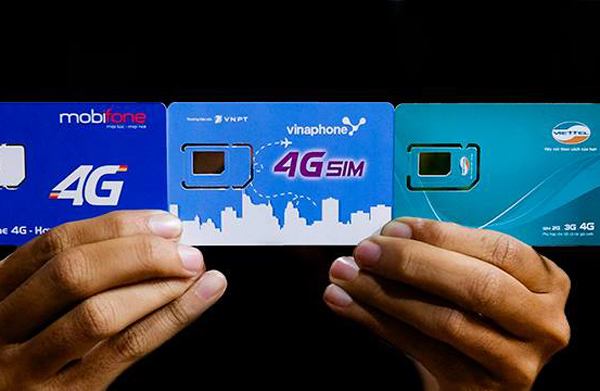 Mobile network operators have geared up for the 4G race
Analysts have predicted that service fees will be lowered and capacity will be raised.
In October 2016, VNPT VinaPhone, Viettel, MobiFone and Gtel got licenses from MIC to provide 4G telecommunication services. Vietnamobile also received a license in late December 2017.
However, the battle will only break out among the three biggest players – Viettel, VinaPhone and MobiFone.
After four months of deployment, Viettel's 4G network became available in all cities and provinces throughout the country, reaching 704 districts, or 99 percent of total districts in Vietnam.
Right after the 4G launch by Viettel, MobiFone and VinaPhone began providing 4G services. VInaPhone has set up 21,000 4G stations to ensure large coverage.
Meanwhile, MobiFone will step by step enlarge coverage in accordance with the 'oil slick' strategy. At first, it focuses on large cities and provinces and later it will reach remote areas.
Meanwhile, Gtel has not made any official announcement about its 4G deployment strategy.
An analyst commented that though mobile network operators follow different competition strategies, improving quality will be their major weapon.
Viettel was the first network operator which marketed 4G service packages. MobiFone and VinaPhone, after learning about the market, launched more competitive service packages.
VinaPhone and MobiFone offer packages with higher capacity than Viettel's, though they have the same service fees.
In the latest move, Viettel has marketed unlimited service packages. To date, it is still the only service provider which offers such a package.
Prior to that, the three mobile network operators offered many service packages. However, the capacity was limited and users had to re-register the service package or buy more data to continue usage.
The analyst said that the competition is so fierce that the companies have designed 4G service packages which are even cheaper than 3G services.
The telecom groups have also joined hands with technology giants to design specific services to attract more users.
There are, for example, packages allowing access to Facebook, YouTube and iflix, useful for those who use service packages with limited capacity.
A report shows that after the three network operators began providing 4G services, 6.3 million broadband subscribers shifted to use SIM 4G, but only 3.5 million subscribers used 4G services.
Qualcomm's Mantosh Malhotra said it was still too early to assess the level of enthusiasm for 4G services in Vietnam because it will take time to acquire a high number of users.
vietnamnet.vn