Viettel, MobiFone and VinaPhone to test 5G network
01-07-2021 | Vietnam Telecom
Sharing infrastructure will help Vietnamese carriers reduce investment costs and speed up 5G coverage.
Recently, the telecommunications sector has witnessed extensive cooperation agreements on infrastructure between mobile carriers. This coordination was raised to another level when the three largest mobile network operators, Viettel, VNPT and MobiFone, signed an agreement to deploy 5G network sharing.
The agreement focused on two important solutions: mobile roaming tests and multi-network radio access network (MORAN) sharing.
Agreements on sharing of telecommunications infrastructure in the past often focused on passive infrastructure (base stations, antenna masts, transmission...). This is the first time that Vietnamese carriers have experimented with sharing higher-layer telecommunications infrastructure such as active infrastructure and 5G radio access network equipment.
The implementation of this agreement is expected to contribute to the overall assessment of the necessary content both in terms of techniques and inter-network coordination mechanism to deploy a 5G network in Vietnam.
On a regional and international scale, this is one of the first agreements on piloting the sharing of 5G network infrastructure. This coordination affirms the determination of the local information and communication industry in bringing Vietnam along with leading countries in 5G.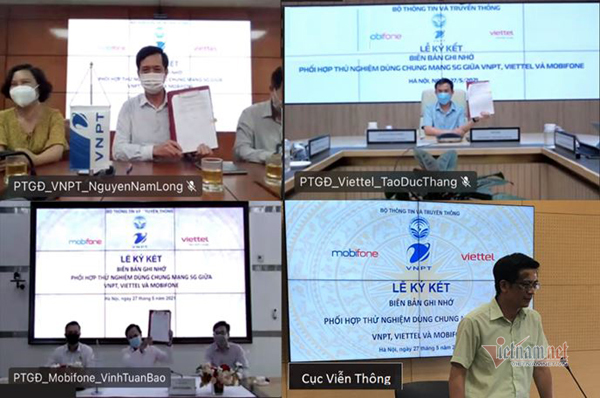 The signing ceremony was held online.
By the end of May 2021, Vietnamese carriers had deployed 5G commercial and service trials in six provinces and cities: Hanoi, Ho Chi Minh City, Bac Ninh, Bac Giang, Binh Phuoc and Thua Thien Hue. The average 5G speed in Vietnam is currently between 500-600 Mbps, 10 times faster than the speed of 4G networks.
With the feature of using millimeter-wavelength bands, the coverage of 5G base transmission stations is only a few hundred meters compared to the 2-3km radius of coverage of previous 2G/3G/4G stations. This requires the deployment and installation of a very large number of 5G stations to be able to provide widespread 5G coverage. Therefore, the sharing of infrastructure and 5G stations is very necessary.
Speaking at the 10th session of the 14th National Assembly, Minister of Information and Communications - Nguyen Manh Hung said: "Vietnam deploys 5G with the spirit of sharing infrastructure. The ministry has asked businesses to develop a plan and will issue regulations on sharing 5G infrastructure, including equipment sharing."
Vietnamnet.vn