ITU Virtual Digital World 2020 held online for the first time by VN
23-10-2020 | Vietnam Telecom
ITU Virtual Digital World 2020, a three-day online event in which participants from more than 50 countries discuss the comprehensive digital transformation in the region and globally, focusing on key issues relating to the development of the digital economy, began on Tuesday in Hà Nội.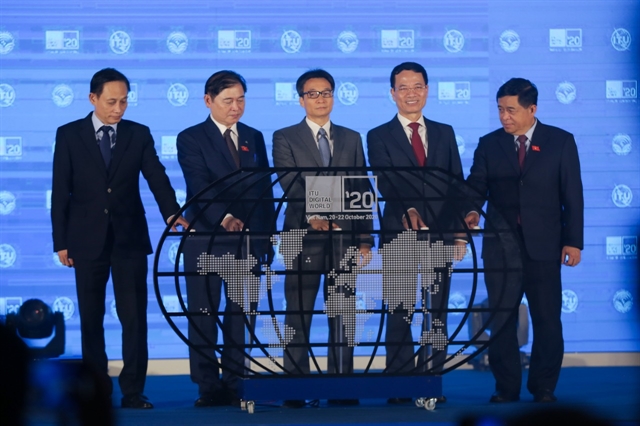 Deputy Prime Minister Vũ Đức Đam (centre) and minister of information and communications Nguyễn Mạnh Hùng at the ITU Virtual Digital World 2020 opening ceremony in Hà Nội. — VGP Photo
The event is co-organised by Việt Nam's Ministry of Information and Communications (MIC) and the International Telecommunication Union (ITU), a UN agency responsible for all matters related to information and communication technologies.
This is the first time the event has been held online, a solution suggested by the host country Việt Nam to limit the spread of COVID-19.
MIC's leader Nguyễn Mạnh Hùng said 2020 has been an unusual year in which the world's telecommunication industry was given both unique opportunities to grow and unprecedented difficulties to solve.
"Việt Nam views digital platforms as drivers for our national digital transformation strategy, cybersecurity as the foundation to build trust and policy reform as the decisive factor in the transformation process," said Hùng in a speech given during the event's opening ceremony.
"Việt Nam's digital infrastructure and products "Make in Vietnam" have been made ready for the digital economy and society," he said.
The minister said "Make in Vietnam" technologies hold the keys to solving a host of problems, not just for Việt Nam but also for the world. For example, among many products on exhibition during this year's event, Việt Nam will showcase its own COVID-19 apps such as Bluezone and NCOVI, technological tools that have proven to be effective in the country's effort to fight the global pandemic.
Houlin Zhao, ITU Secretary-General, said the three-day event is an opportunity for governmental agencies and business enterprises of all sizes to share experience and lessons in coping with the pandemic.
Zhao said the pandemic has made it clear that telecommunication technologies will play a vital role in societal and economic development.
According to ITU, Việt Nam has been among countries with the fastest growth in telecommunication. The country has set an example for developing countries to follow in the development of telecommunication networks, especially against a backdrop of the global economy still struggling to recover from COVID-19.
The event consists of three major activities: the Ministerial Roundtables, the Forum Sessions and the Virtual Exhibitions. An important highlight this year is the introduction of 2D and 3D virtual booths that showcase the latest telecommunication solutions, products and services from around the world.
VNS