Viettel builds HCM City the first IoT-based locality in Vietnam
16-09-2019 | Vietnam Telecom
The Military-run Industry-Telecoms Group (Viettel) has started operating 1,000 BTSs (base transceiver stations) using Narrowband-Internet of Things (NB-IoT) technology to cover the entirety of Ho Chi Minh City.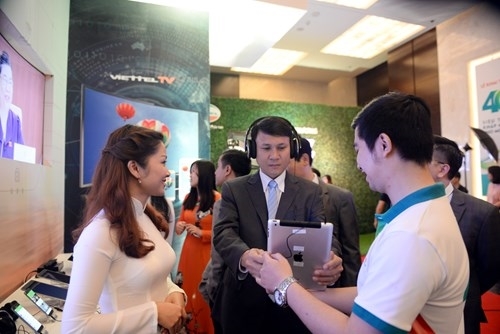 Customers experience Viettel's services.
This means, Viettel has completed the technical system which supports IoT connectivity in the city, helping it become the first IoT-based locality in the country.
Previously, the company operated nearly 500 NB-IoT stations in Cau Giay district and in Hanoi's outskirts. This month, it is expected to deploy the NB-IoT network that will cover all areas of the capital city.
Additionally, Viettel has been boosting a platform that will deploy and introduce its NB-IoT services to customers, such as smart parking, air quality monitoring, location tracking, and metering accessories.
Deputy General Director of Viettel Tao Duc Thang affirmed that Viettel targets to bring the IoT technology to every province and city across the country and abroad.
Based on its existing 4G system, the NB-IoT technology, designed and developed by Viettel, is a Low Power Wide Area Network (LPWAN) radio technology standard with a focus on enabling a wide range of cellular devices and services, while having a low cost, long battery life, and high connection density.
Viettel plans to hold a grand ceremony to announce the completion of its IoT and 5G system in HCM City, contributing to the building it a smart city and improving local residents' living standards.
qdnd.vn