AAE-1 submarine cable system
23-03-2015 | Viettel Headlines
Seventeen of the world's most prominent service providers to construct a new and unique high capacity cable system AAE-1
January 27, 2014, Seventeen of the world's most prominent service providers to construct a new and unique high capacity cable system, Asia Africa Europe-1 (AAE-1).
The AAE-1 submarine cable spanning approximately 25,000 kms, will be one of the first unique cable systems connecting Hong Kong, Singapore, Middle East, Africa and Europe and providing an alternative low latency route between Hong Fareast and Europe. Its completion will provide additional protection and diversity to the existing heavily congested cables systems.
The Seventeen major incumbent carriers include British Telecom, China Unicom, Chuan Wei (Cambodia) Co. Ltd, Djibouti Telecom, Etisalat, Mobily, Omantel, Oteglobe, Ooredoo, PCCW Global, PTCL, Reliance Jio Infocomm Pte Ltd, Telecom Egypt, TeleYemen, TOT, and Viettel, have signed the Construction and Maintenance Agreement (C&MA) in Hong Kong on January 27, 2014 to officially mark the commencement of the AAE-1 Project.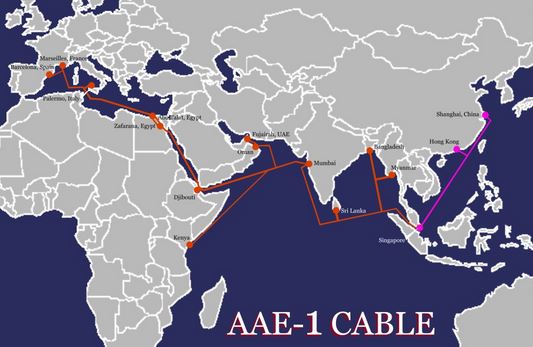 AAE-1 is one of the largest cable systems launched and stipulate an exponential business growth in participating countries.
AAE-1 will employ 100Gbps technology with wavelength add/drop branching units along the lowest latency route with design capacity of over 40 terabits. Additionally, having two diversified Point of Presence (PoP) in Asia (Hong Kong and Singapore) and three onward connectivity options in Europe (via France, Italy and Greece) will provide the requisite flexibility for these carriers and their customers.
The target completion date for AAE-1 cable construction is the year 2016. When completed, it will connect Hong Kong, Vietnam, Cambodia, Malaysia, Singapore, Thailand, Myanmar, India, Pakistan, Oman, UAE, Qatar, Yemen, Djibouti, Saudi Arabia, Egypt, Greece, Italy and France.
International Business Center - Viettel Telecom