DEPUTY CEO OF VIETTEL SOLUTIONS (VTS) IN CHARGE OF INTERNATIONAL SECTION RECEIVED THE BEST LEADERS AND CEOS AWARD IN 2022 FROM CEOTODAY
12-04-2022 | Viettel Headlines
Recently, CEOToday magazine has announced a publication introducing the best leaders and CEOs in 2022 as evaluated and voted by the magazine and international company representatives, Deputy CEO of Viettel Solutions (VTS) - Mr. Doan Dai Phong is one of 31 IT and International telecommunications innovation leaders appear in the magazine.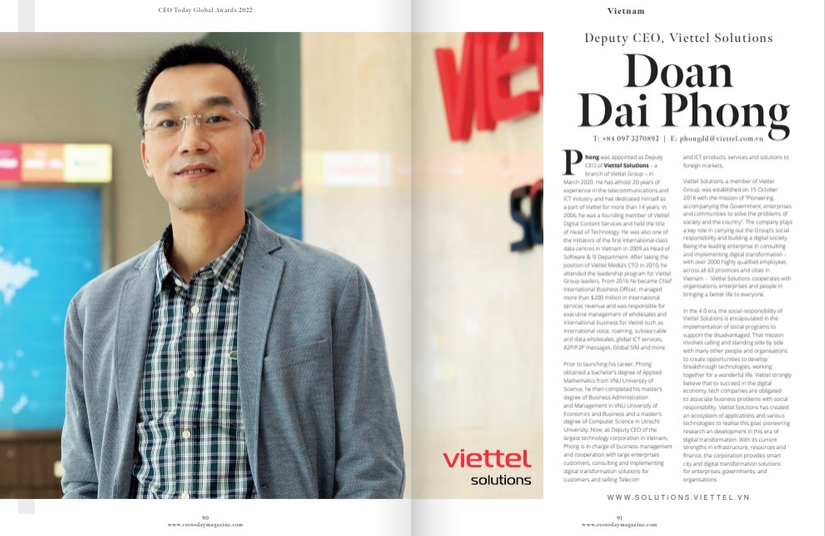 Mr. Doan Dai Phong - Deputy CEO of Viettel Solutions (VTS)
Over 14 years of experience in the fields of telecommunications and Information Technology, Mr. Doan Dai Phong - Deputy CEO of VTS has devoted himself as a part of Viettel. Mr. Phong has gone through many departments, holding many important positions in the development of Viettel's products and services. Since 2009, Mr. Phong has held the position of Head of Software and Integration Department of Viettel IDC, and in 2010 was Deputy Director of Viettel Media Content Center. Since 2016, Mr. Phong has held the position of Director of International Sales, managing over USD 200 million in international service revenue and responsible for managing Viettel's wholesale & international business with services such as international voice, roaming, connectivity, international solutions, A2P/P2P messaging, international SIM, etc.
Appointed as Deputy CEO of VTS in March 2020, Mr. Phong spent time in charge of business and cooperation in the fields of large corporate customers, consulting and implementing transformation solutions, customers, and selling information technology products, services, and solutions to foreign markets. Up to now, in addition to maintaining the development of VTS's solution service business to the international market, towards the Go Global goal of VTS in particular and the Group in general, Mr. Managing the implementation of digital transformation projects in the health sector. Thanks to his background in technical knowledge, experience, business acumen, and good executive and communication skills, the Deputy CEO always receives respect and appreciation from international partners. Therefore, Viettel always maintains good cooperation relationships with hundreds of network operators and technology companies around the world. At the same time, appearing in the magazine also opens up opportunities for Viettel to connect with partners and customers around the world.
The above results are based on the assessment of market research experts of CEOToday magazine along with the votes of international partners operating in the field. This recognition of the magazine is a testament to VTS's position in the international market, as a potential technology company, with good leadership, and is cared for and monitored by organizations operating in the same field.
For details of the interview with the CEO on CEOToday magazine, please visit the link: https://globalawards.ceotodaymagazine.com/winners-edition/90/
Viettel

CEO Today Magazine is a business and lifestyle magazine. The magazine is sent to more than 150,000 prominent leaders and executives around the world, providing them with informative content that is relevant to the trends and interests of senior leaders.