Metfone hosts Cambodia's first VAS conference
18-05-2015 | Viettel Headlines
Metfone successfully hosted Cambodia's first VAS Conference at the Sofitel Phokeethra Hotel with more than 100 international partners in attendance. This is the first conference of its kind in Cambodia.
The conference drew the attention of numerous VAS providers in the world including India, Malaysia, Myanmar & Vietnam.
A value-added service (VAS) is a popular telecommunications industry term for non-core services, or in short, all services beyond standard voice calls and fax transmissions like SMS, MMS and dataaccess were historically usually considered value-added services.
Metfone is well known in the region as the leading VAS service provider with more than 50 services in total, 3 times higher than the runner-up operator. Services are built up based on the demands of Cambodian people and help bring people closer to modern technologies such as Music Portal & HD TV services, as well as providing helpful information to support daily life such as Education & Health services.
Metfone also focuses on developing new applied services such as 3G services which is a popular trend in the telecommunications industry. Metfone's total revenue for 2014 exceeded 30 million dollars. A 30% increase on 2013's revenue.
With the target to develop VAS service market, Metfone shares opportunities to all partners as long as they provide qualified services supporting the customers to the fullest.
Mr. Nguyen Dinh Thai, the Vice Director of Metfone, expects that after this conference partners will understand more about the development policies and will establish long-term partnerships with Metfone in VAS market. He emphasizes that the key target of all these activities is to provide helpful services to customers, make their lives more convenient and informative.
During the conference, partners presented their valued proposals.
Innovative solutions from ZED or CENTECH have brought the conference a new perspective of the VAS industry. All partners took the opportunity to directly discuss with Metfone representatives ideas such as service providing & cooperation policies with positive feedback shared amongst all partners who highly appreciated clarity on policies and the professional organization given by Metfone.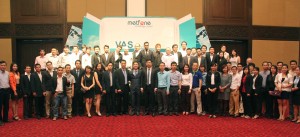 Many of the attending partners decided to initiate long-term partnerships with Metfone as a result of this conference.
Coming to the conference, Mr Suthan M, Regional Business Development Manager of ZED, expresses his belief in cooperating with Metfone: "Cambodia is a potential market and the demands for VAS services is increasing stability. Having chances to cooperate with Metfone, the biggest operator in Cambodia will bring success to partners and more importantly, Cambodian's will benefit from our innovative services".
B2B Cambodia