Ministers of Indonesia and Vietnam Witnessed the MoU Signing between Telin and Viettel
07-12-2018 | Viettel Headlines
Bali, 5 December 2018 – PT. Telekomunikasi Indonesia International ("Telin") and Viettel Business Solution Corporation signed a Memorandum of Understanding (MoU) regarding telecommunication business which took place in Mandapa Ritz Carlton, Ubud, Bali on 5 December 2018. The signatories from each party are CEO of Telin, Faizal Rochmad Djoemadi and CEO of Viettel Business Solution Corporation, Phun Van Cuong.
The MoU Signing Ceremony was conducted as part of "The 18th ASEAN Telecommunications and Information Technology Ministers Meeting (TELMIN)" and "The 19th ASEAN Telecommunications and Information Technology Senior Officials Meeting (TELSOM)" events which was organized by the Ministry of Communication and Information Indonesia (KOMINFO).
Began by a bilateral meeting between Indonesia's Minister of Communication and Information, H.E. Rudiantara and Vietnam's Minister of Information and Communication, H.E. Nguyen Manh Hung, the event was also attended by CEO of Wholesale & International Business Telkom Indonesia, Abdus Somad Arief, Deputy Chair Viettel Group, Hoang Son, and EVP of Voice and Mobility Sales Telin, Nicholas Soo. These honorable guests took their role as the witnesses for the signing ceremony.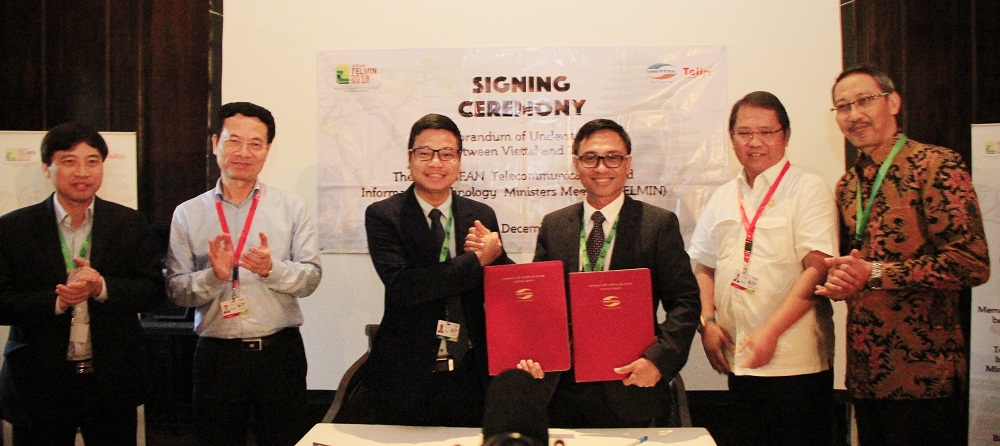 Viettel and Telin at the MoU Signing Ceremony
The MoU includes the understanding regarding a prospective collaboration in both legacy business and digital services. The legacy business between Telin and Viettel includes Traffic, Signaling, SMS and Roaming whilst the the digital services collaboration includes Smart City and Smart Education. It is expected that the two companies can share their capabilities to be brought to each country. The same culture and potential business between Indonesia and Vietnam is one reason why the two companies are expected to work in a harmony together.
The new initiatives that emerged from the collaboration between both parties is the Submarine Cable. This business is expected to boost the corporate revenue on the upcoming 2019. Before the MoU Signing Ceremony began, Abdus said that the collaboration between Telin and Viettel will not only benefited the two companies, but also representing the pride of the two countries as ASEAN members in the eyes of the world. On the same occasion, Hoang Son also said that the strategic collaboration between Telin and Viettel is expected to run well in the long term.
"Aiming the Future of the Digital Ecosystem for the ASEAN Prosperity" was the theme of TELMIN. It is a platform for promoting the cooperation in ICT between 10 ASEAN members as well as discussion between the members and Dialogue Partners from China, Japan, The Republic of Korea, the United States, and the European Union. Indonesia is the host of this year's event with H.E Rudiantara as the Chair of the Meeting.