Mytel reach three million subcscribers after 3 months of launch
04-10-2018 | Viettel Headlines
"According to Viettel Global, Mytel - the brandname of Viettel in Myanmar reached the milestone of 3 million customers after 3 months of opening".
Before the launch of Mytel, Viettel Global was ambitious to reach 2-3 million subscribers in 2018. However, within 1 month of launch, the target has been changed to 4 million customers in 2018 and be profitable in the end of 2019.
Among 3 million Mytel active customers, there are more than 70% using 4G services; This is really new record of Viettel's global markets.
A recent Myanamr mobile market survey showed that more than 90% of the respondents were most impressed with the Mytel network, nearly 10% divided equally among the other three existing mobile operators in Myanmar. In addition, 94% of respondents knew Mytel was the fourth operator in Myanmar and came from Vietnam.
Mr. Nguyen Thanh Nam, General Director of Mytel, said that the achievement of 3 million subs over the 3 months of launch in Myanmar is accompanied by the positive results of providing telecommunication product and businesses ecosystem.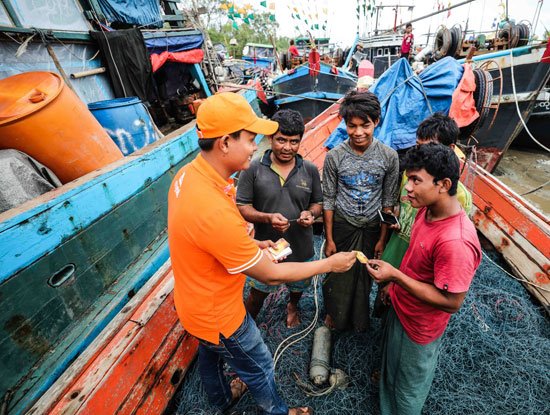 The total value of contracts from enternprise customers amounted to more than $ 2.4 million after only a month of operation. At the same time, Mytel has grown to 30,000 mobile customers. With this growth, it is expected that Mytel will reach 200,000 mobile customers from enterprises by the end of 2018. This is also a highlight record number for a new telecommunications network which often has to focus entirely on individual customers.
In Myanmar, Mytel is now the only telecommunications company that can provide a complete service package includes mobile, fixed line, data transmission and IT services nationwide.
The rapid acquisition of large customers from the business sector is positive resulted from the strategy of carefully preparing the infrastructure, apparatus and services for the enterprise market nationwide before launching. In addition, Mytel has achieved great advantage thanks to the proactive cooperation with many major distributors, especially Skynet, which is the largest television provider in Myanmar. With more than 400 agents, 130,000 selling points and more than 1 million customers across the country, Skynet is a great opportunity for Mytel in 2018 and beyond.
It can be seen that among Viettel's 10 international markets, Myanmar is the largest and most anticipated market in 2018 in terms of growth although Mytel's planned loss at the beginning of operation, due to high cost and depreciation. However, with the milestone of 3 million customers, Viettel reached a new record of growth in Myanmar and has been the fastest pace of Viettel in the world in history. In Vietnam, Viettel takes more than 18 months to reach 3 million subscribers and this is also the historical growth rate in the telecom industry in 2006. Mytel's growth is also the rare mobile carrier in the world in the context of the world telecom market is growing slow. It is expected that Mytel will be profitable soon and contribute a significant contributor to Viettel Global's earnings in the future.
According to Ictnews.vn