SCI-TECH & ENVIRONMENNT Face Book Twitter Bình luận Tin nóng Digital transformation offers major opportunities for tech firms: minister
17-07-2019 | Vietnam Telecom
Digital transformation will open up opportunities for Vietnam, mainly technology enterprises, Minister of Information and Communications Nguyen Manh Hung said at a meeting on July 15.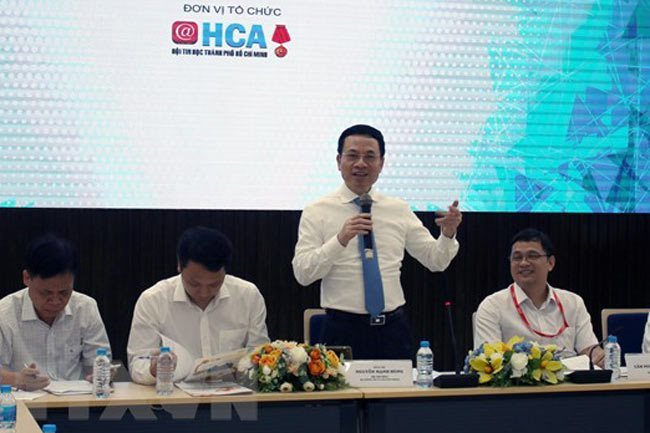 Minister of Information and Communications Nguyen Manh Hung speaks at the meeting on July 15 - PHOTO: VNA
Although Vietnam is expected to benefit from digitalization, the nucleus for digital transformation is Vietnamese tech enterprises, which will undergo comprehensive change, Hung said.
Speaking at the meeting with the information-technology (IT) and communications community in the southern region, Minister Hung said that digital transformation does not need many facilities as the major factor is changing mindsets, adding that IT firms play an important role in this process, the local media reported.
These tech enterprises may originate from large commercial and service firms with a high financial capacity and well-known tech firms intending to switch to producing made-in-Vietnam products and startups.
HCMC stays on top of the information and communications technology (ICT) growth in the country, but the contribution from firms involved in research and development accounted for a mere 30% in revenue and 50% in the number of the total enterprises, Hung said.
As such, the ICT community should further focus on researching and developing products as this market is not limited and Vietnamese customers need more products, Hung explained.
Besides this, Hung stated that Vietnamese firms should manufacture high-quality products that are different from foreign ones to compete with their global rivals.
As for difficulties in testing new products, the ministry will launch test programs and collaborate with the HCMC government to adjust some unreasonable regulations and policies and create the most favorable conditions for IT firms to gain ground.
On the same day, the minister had a meeting with the Binh Phuoc authorities, discussing the development of ICT for the province.
At the meeting, the provincial government proposed the ministry maintain the data integration platform to serve the document management system, support it with information security and the removal of inaccurate information on Facebook and Youtube and help the province build a smart city project.
Minister Hung also asked telecom and IT firms and the relevant agencies to consider Binh Phuoc Province's proposals, suggesting the province prioritize ecommerce development. SGT
Vietnamnet.vn