Teradata and Viettel Partner to Drive Growth and Digital Transformation Efforts in Vietnam
28-10-2020 | Viettel Headlines
New partnership expands Teradata's market reach and enables businesses in Vietnam to accelerate data management, analytics and artificial intelligence strategies
HANOI – Oct. 28th, 2020 – Viettel Business Solutions Corporation (VTS), a leading ICTsolutions provider under the wing of Viettel Group today announced a partnership with Teradata (NYSE: TDC), the cloud data analytics platform company to drive growth in Vietnam and help Government, Large enterprise and SME customers implement and achieve greater value from data and data analytics initiatives.
With the mission of accompanying the Government to create a digital society, VTS has been determined as the pioneer and companion of Vietnamese enterprises during digital transformation to develop the digital economy and smart industry. Cooperating with the world's leading experts on digital transformation to together give professional advices on digital transformation to the Enterprises and the Government and prestigious technological partners in the world to self-develop technical solutions to directly apply such solutions in operations of Enterprises/Organizations in different sectors are the important tasks to complete its mission. Accordingly, Teradata is one of the enterprises that VTS chooses to become its strategic partner.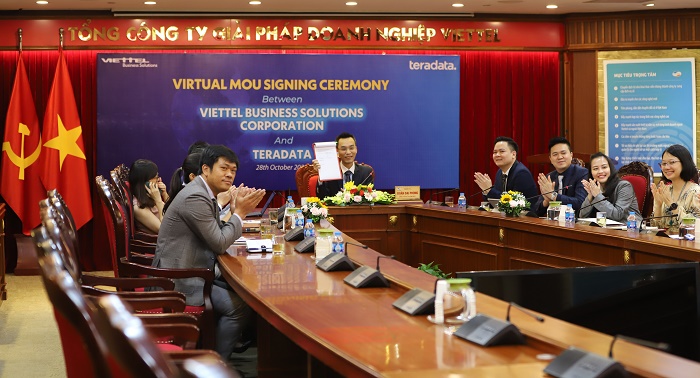 Teradata and Viettel Partner to Drive Growth and Digital Transformation Efforts in Vietnam
Marking Teradata's continued expansion in Asia Pacific and its first entry into the Vietnam market, Teradata will work with VTS to develop and launch new market-relevant solutions and a wider suite of services to help customers better leverage key Data Management, Analytics and Artificial Intelligence (DMAA) technologies in order to benefit from more informed insights and drive better business outcomes. Key services include:
Foundational Services – Data lakes, data warehouses and data management
Growth Services – Data governance, descriptive analytics and diagnostic analytics
Transformational Services – Artificial intelligence, machine learning and predictive analytics
Vertical Solutions – Smart factories, smart cities, smart power-plants, digital banking and more
As part of the partnership, VTS will be named a Strategic Innovation Consulting Partner. In doing so, Teradata will assist VTS in building go-to-market plans, help design and tailor vertical industry solutions, as well as train VTS staff on how to help customers leverage Teradata's modern cloud data analytics platform, Teradata Vantage. On the other hand, with a strong brand foundation and reputation in the Vietnamese market, VTS will help Teradata open up opportunities to reach its 600,000 enterprise customers in Vietnam. Over the next five years of the engagement, VTS will aim to deliver ~20% business growth in the region.
Teradata Vantage is a leading hybrid, multi-cloud data analytics software platform that enables ecosystem simplification by unifying analytics, data lakes and data warehouses. With Vantage delivered as-a-service, in the cloud, enterprise-scale companies can eliminate silos and cost-effectively query all their data, all the time, regardless of where the data resides – in the cloud, on multiple clouds, on-premises or any combination thereof – to get a complete, integrated view of their business.
"With this partnership, we will be able to help the Vietnamese government and other key enterprises – across utilities, manufacturing, finance, retail and more – to better leverage their data, apply analytics and support the end customer, as part of their digital transformation efforts," said Darryl Mckinnon, Vice President, Teradata South Asia & Korea. "We believe customer success is the result of a strong collaboration between our customers and our partner ecosystem. Viettel Business Solutions Corporation's strong industry track record makes them the perfect fit, and we look forward to building on this partnership and expanding into other markets longer term."
"As our extensive roster of B2B-focused customers continues to expand, Viettel Business Solutions Corporation was looking for a partner to help bring forth rapid advancement in the region regarding the digitization and modernization of enterprises and societies. As a recognized leader in multiple segments of data analytics and hybrid cloud deployments, Teradata was the perfect complement to our existing relationships in the region," said Mr. Doan Dai Phong, Deputy CEO & Chief Interntional Business, Viettel Business Solutions Corporation. "We are excited to work with Teradata to help accelerate digital transformation throughout Vietnam, as well as help our customers uncover new revenue streams, streamline costs and bolster productivity."
For more information about the partnership and solutions available, please visit https://solutions.viettel.vn/en.
Viettel Business Solutions Corporation is a member of Viettel Group, established with the mission of developing a digital society with solutions for smart cities and Digital transformation solution for enterprises, Government, and organizations in direction of connection, sharing and customer experience. The company currently owns research and development centers which master new technologies of Industrial Revolution 4.0 (Big Data, AI, IoT, AR/VR, Cloud, Blockchain, Integration Data, etc.). With our strength in infrastructure, resources, and finance, we are ready to develop a digital society with solutions for smart cities and Digital transformation solution for enterprises, Government, and organizations in direction of connection, sharing and customer experience.
About Teradata
Teradata is the cloud data analytics platform company, built for a hybrid multi-cloud reality, solving the world's most complex data challenges at scale. We help businesses unlock value by turning data into their greatest asset. See how at Teradata.com.