Viettel aim to promote Smart City in Vietnam
13-02-2017 | Viettel Headlines
Phu Tho and Thai Binh has become the next 2 cities cooperated with Viettel in smart city project.
Became the 8th and 9th city signed cooperation agreement of implementing smart urban with Viettel Corporation, Phu Tho and Thai Binh expected to boost the development of information technology, contributing to the development of intellectual economy, society, enhancing competitiveness in the international integration process; speeding up the industrialization and modernization, ensuring rapid development and sustainability.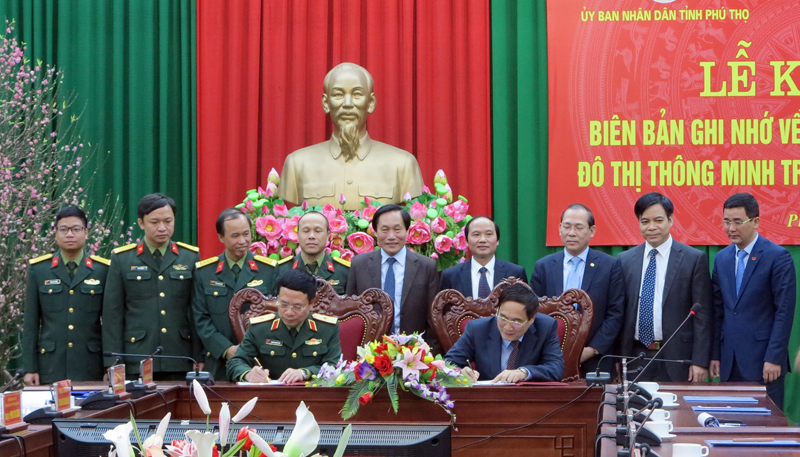 General Director Nguyen Manh Hung and Chairman of Phu Tho People's Committee – Mr. Bui Minh Chau jointly signed the agreement.
Over the past few years, Viettel's branch in the province has effectively co-operated and implemented telecom services and information application in the locality, including connecting the database for 305 healthcare and treatment units and launching social healthcare insurance system management for all hospitals. It has also organised health checkups for more than 30,700 people in Yên Lập District, besides offering free high-speed Internet service to 916 schools in the province.
At the signing ceremony, Chairman of Thai Binh People's Committee – Mr. Nguyen Hong Dien has appreciated the collaboration with Viettel and committed to generate the best conditions to help the cooperation goes well, especially help improve the quality of life for citizen in Thai Binh.
Viettel and Thai Binh Province sign a Memorandum of Understanding (MoU) to build a smart city.
According to the cooperation agreement, Viettel committed they will deploy smart urban development focusing on 06 key areas including Health, Education, Transport, Information Security, Culture sports and public administration as soon as possible.
General Director of Viettel Group – Mr. Nguyen Manh Hung, said the group had the advantage of having an extensive telecom infrastructure nationwide (5 North - South fiber backbone; 230,000 km of optical cable to cover almost all districts and communes; 36,000 broadcast locations and 73,000 broadcast stations), and abundant human resources of 4,000-5,000 people in the ICT sector with a high degree of professionalism. It had also created many solutions and products, such as Bankplus, Moffice, Shop.one and Smas, as well as sms.edu, hospital management software and social healthcare insurance system management. "Viettel is confident about supporting the province to build a successful smart city," he said, adding that the two sides would quickly prepare action plans and specify the MoU's contents.
Previously, Viettel has already signed a cooperation agreement to build smart city with 7 local including Thai Nguyen, Phu Yen, Hai Duong, Hue, Binh Phuoc, Hung Yen and Da Nang. In certain provinces, Viettel was initially developed on systems and software for smart planning for urbanization wifi coverage on some famous tourist destination for visitors and residents. In certain provinces, Viettel was initially developed on software systems and components for the Smart City plan, some well-known tourist destination which was wifi coverage for visitors and people.