VIETTEL COOPERATED TO TRANSFORMATION DIGITAL OF THE MILITARY ENGINEERING INDUSTRY
16-05-2022 | Viettel Headlines
The General Department of Technology (Vietnam Ministry of Defense) and Viettel Group have just held a conference to deploy the coordination program in 2022 and the following years.
On the basis of the results of the implementation of coordination contents under the 2021 plan between the two sides, the General Department of Technology and Viettel Group have proposed to continue implementing the coordination contents in 2022 and in the following years, contributing to the good planning, implementation of engineering, and work in the Vietnam People's Army. In particular, the two sides coordinated to implement a plan to digitally transform military engineering industries for the period 2022-2025, with a vision for 2030.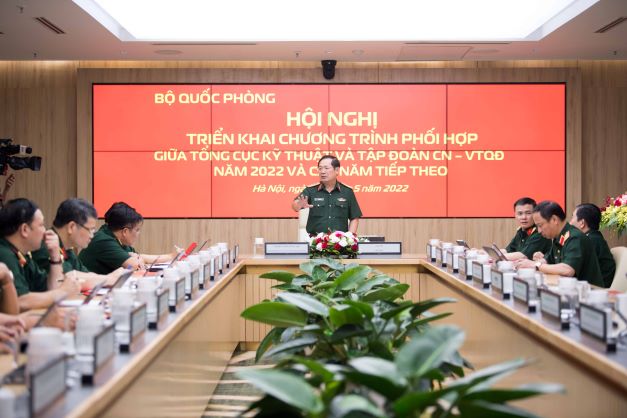 Senior Lieutenant General Le Huy Vinh, Member of the Party Central Committee, Standing Member of the Central Military Commission, Deputy Minister of National Defense attended and directed the Conference
Specifically, Viettel will cooperate with the General Department of Engineering to build an electronic identification system for technical equipment and technical materials; develop digital infrastructure, digital platforms, digital applications, and shared digital data, to meet the requirements of management, command, direction, and administration of the military engineering industry. At the same time, Viettel and the General Department of Technology coordinated and implemented solutions to ensure information safety and network security in technical activities. Viettel also participates in research and application of achievements of the fourth industrial revolution in the digital transformation of technical industries.
In addition, the two sides will also jointly research, produce and improve technical equipment to gradually modernize and improve combat readiness and complete the tasks of the Armed Forces and the military engineering industry.
Speaking at the conclusion of the conference, Senior Lieutenant General Le Huy Vinh emphasized that the signing and implementation of a cooperation program by the General Department of Technology and Viettel Group is of great significance in promoting the strengths, capacity, and experience of each unit, independently research, produce, improve, modernize technical equipment and perform well technical work in the military.
Viettel