VIETTEL ESTABLISHED COOPERATION WITH NVIDIA GROUP IN A.I. TECHNOLOGY
30-06-2022 | Viettel Headlines
Hanoi, Vietnam, June 30th, 2022 – Military Industry and Telecommunications Group (Viettel Group) and NVIDIA Corporation held a signing ceremony of a Memorandum of Understanding to establish a strategic partnership on Artificial intelligence (A.I.) to promote research and application of A.I. technology at Viettel & Vietnam.
Viettel is the first enterprise in Vietnam and one of five enterprises in Southeast Asia to officially establish a strategic partnership with NVIDIA, one of the world's largest corporations providing A.I. solutions. NVIDIA's solutions have widely been applied in the A.I. field, with more than two-thirds of the world's fastest supercomputers using this corporation's technology.
NVIDIA (headquartered in Santa Clara, California, USA) specializes in the development of graphics processing units (GPUs) and chipset technology for workstations, personal computers, and mobile devices. NVIDIA's invention of the GPU in 1999 spurred the growth of the computer games market, which redefined modern computer graphics, and revolutionized the parallel computing. NVIDIA has applied GPUs in supercomputers enabling the development of virtual reality, high performance computing (HPC), and artificial intelligence...
The establishment of partnerships with the world's leading partners, including NVIDIA, demonstrates Viettel's determination to invest in artificial intelligence technology. This is an activity to contribute to the Prime Minister's goal of realizing the national strategy on research, development, and application of artificial intelligence by 2030, which will soon put Vietnam to the group of 5 leading countries. in the ASEAN region and the group of 60 leading countries in the world in research, development, and application of Artificial Intelligence.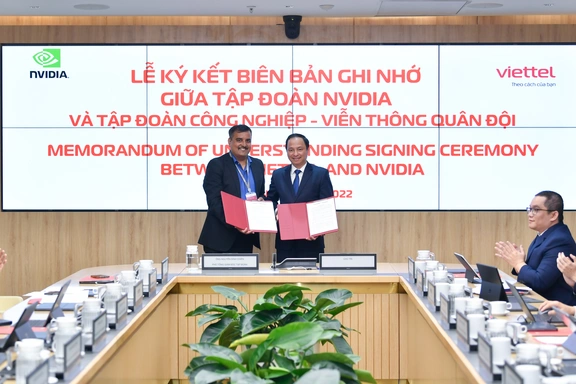 Memorandum of understanding signing ceremony between Viettel and NVIDIA
The cooperation between Viettel and NVIDIA is expected to accelerate the research and application of A.I. into Computer Vision, Natural Language Processing, Digital Twin, Robotic, etc.
Under this agreement, Viettel joins NVIDIA's global partner network, which will mark an important milestone in the implementation of the national's A.I. strategy and contribute to bringing Viettel's A.I. solutions to the international market.
Viettel Group Deputy General Director Nguyen Dinh Chien shared: "With the goal of pioneering and leading A.I. research and application in Vietnam, Viettel will cooperate with the world's leading technology corporations, to promote synergy between the parties. The strategic cooperation relationship between Viettel and NVIDIA will be the foundation to promote the development of the A.I. ​​field in Vietnam and in the region."
Mr. Keith Strier – NVIDIA VP of Worldwide AI Initiatives – said: "As the only company operating within all A.I. companies in the world, NDIVIA will join Viettel in promoting A.I. applications in Viet Nam. Viettel is implementing activities to ensure that Vietnam has the necessary human resources and computer infrastructure to become an A.I. Country. Within the next three years, I expect other countries to aspire to become a 'Vietnam' of such area."
Viettel