Viettel Global pockets 57.1 million USD of profit in third quarter
12-11-2018 | Viettel Headlines
Viettel Global Investment JSC, a subsidiary of Viettel Military Industry and Telecoms Group, reported revenue of 4,428 billion VND (188.6 million USD) and profit of 1,342 billion (57.1 million USD) in the third quarter of 2018, up by 5 and 8 percent year-on-year, respectively.
Besides traditional markets which brought high profits to Viettel Global, Viettel Burundi and Viettel Haiti achieved strong revenue growth of 14 percent and 26 percent, respectively.
In Haiti, the allotment of the 1700 MHz frequency for its 4G network this year advanced Viettel's Natcom ahead its rivals and it signed up double the number of customers it did last year.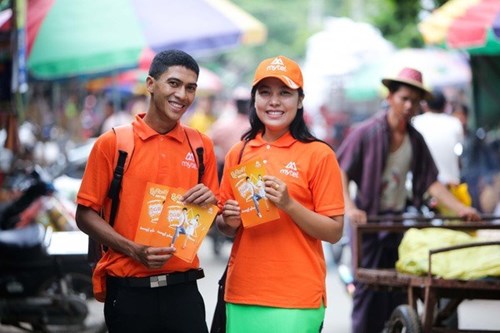 Myanmar is the Viettel Global's largest foreign market
Viettel Global's operation and management costs have reduced by 4 percent and 12 percent this year after adopting a new business model.
It has hired Viettel Telecoms to run its operations in foreign markets to take advantage of its resources and operational experience in Vietnam, and has retained only the functions of drawing strategies, managing financial sources, and exploring and investing in foreign markets.
Its receipts from financial investments increased by 54 percent in the third quarter.
By the end of the third quarter, Viettel Global had a chartered capital of 30,438 billion VND (1.29 billion USD) and total asset of 59,029 billion VND (2.51 billion USD), up 13.6 percent as compared to the figure at the year's beginning.
Viettel Global's turnover in the first nine months was down 5 percent to 12,432 billion VND (529.7 million USD), and the company reported a loss of 812 billion VND (34.6 million USD) as against a profit of 273 billion VND (11.6 million USD) in the same period last year.
The loss was because of Mytel, its company in Myanmar, which only began operations in June 2018 and has yet to break even.
Myanmar is the company's largest foreign market and Viettel Global pins high hopes on it because the country has a large population.
Mytel signed up 3.2 million subscribers in just the first three months and Viettel has set its sights on breaking even in 2-2.5 years against its average of three years.
In terms of turnover, Africa, where it has presence in Cameroon, Tanzania, Mozambique, and Burundi, was the main contributor with 5,606 billion VND (238.8 million USD).
It is followed by Southeast Asia where Viettel Global has joint ventures in Cambodia and East Timor with 4,544 billion VND (193.6 million USD) and Latin America with 1,685 billion USD (71.8 million USD).
Viettel provides 4G services in nine foreign markets, except Cameroon, and electronic wallet services in eight, except Haiti and Myanmar.
It has set itself a goal of expanding to reach a population of 400-500 million and becoming one of the 10 top telecom players in the world. It already is among the top 30 in terms of number of customers.
qdnd.vn