Viettel make ITU Virtual Digital World 2020 in Vietnam become a special event
23-10-2020 | Viettel Headlines
For the first time in the history of nearly 50 years, the ITU Digital World event was held completely online with the 3D virtual booth platform developed by Viettel.
Opening on October 20, the atmosphere at the International Conference Center (ICC) did not differ much from normal working days. Without the large screen placed outside, perhaps many people would not have known that this is the place where the host country of Vietnam organizes ITU Virtual Digital World 2020. Inside, all preparations were carried out in the main hall, where the opening ceremony took place.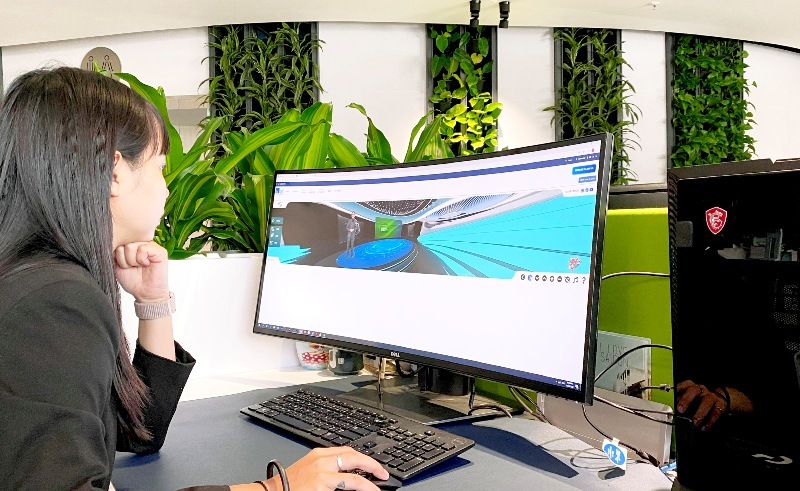 Users around the world can visit ITU 2020 with virtual reality booths and 3D platforms.
Facing the effects of the Covid-19 epidemic around the world, the host country of Vietnam has actively proposed to organize ITU 2020 in an online way. Viettel Group has been assigned to support the Ministry of Information and Communications to co-organizer the event with the International Telecommunication Union (ITU).
Having experience of being the host of APEC 2017, the US-Korea Summit 2019 and the ASEAN Summit and ASEAN +3 Summit in 2020, Vietnam was confidently organized this unique event that has never existed in the past half-century history of the ITU, even though it was the first time Vietnam hosting the ITU event.
With 3D Platform using 100% "Made in Vietnam" technology built by Viettel engineers, the first 3D virtual booths at ITU 2020 left a strong impression on attendees. Users can visually visit the booths as if they were present only with an Internet-connected device. Virtual reality glasses (VR) will help bring the perfect experience.
With bright and clear layouts, visitors can quickly find out what they are interested in at 3D virtual booths and experience its freshness and excitement. Online exhibitions also help visitors to keep completely safe from the risk of corona virus spreading due to limited direct contact with people.
Besides, the application of 3D virtual booth also saves the whole cost of building a real booth at the exhibition. A huge amount of money would also be saved from regular event expenses.
Appeared with a green background and the words "Viettel Creating Digital Society", Viettel's booth is a typical example of virtual exhibition technology at ITU this year. With just one click, wisitors can experience the products on display. Exhibited at the exhibition a series of measures such as B2G (Solutions for Government); B2B (Solution for Business) and B2C (Solution for Users), Viettel's booth offers the best overview of digital transformation in Vietnam.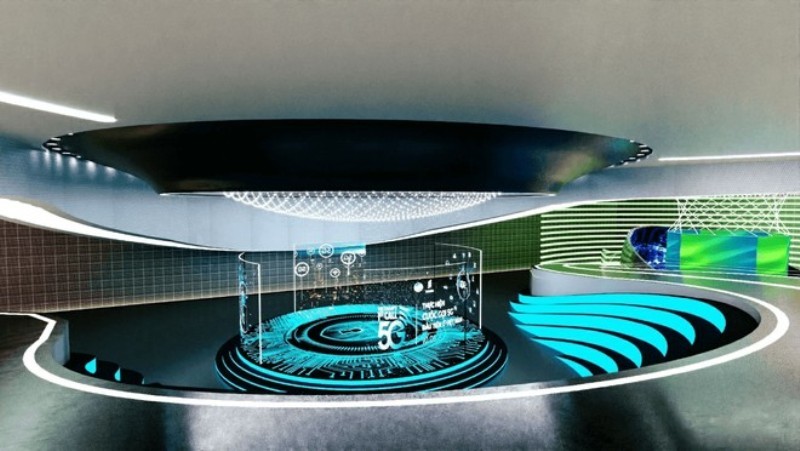 Virtual reality booth at ITU Virtual Digital World 2020
Accordingly, the digital ecosystem that Viettel brings to the ITU includes many digital products that have been successful and have made important contributions to the creation of a digital society in Vietnam such as: Information systems for meetings and work handling - eCabinet; Telehealth platform; VCloud Platform; spam blocking system - Antispam Call; Digital payment ecosystem - ViettelPay; learning social network - ViettelStudy ...
Besides Viettel, the main booths of Vietnam and 5 other large technology enterprises, VNPT, CMC, Vsmart, BKAV and FPT, were also built in 3D.
Online exhibitions with virtual booths on Viettel's 3D platform at ITU 2020 this year is considered to be a driving force, even a new standard for other online exhibitions in the context of the Covid -19 pandemic, which shows no sign of being controlled globally.
Visitors can easily recognize the features when glancing through the booths of different countries. While Korea chooses a modern "outfit", Japan "wears" its booth with typical images of the country's culture. The famous religious works or the National Flower Champa (great flower) also appeared in the booth of Laos.
According to representatives from Viettel, this platform was completed within only 1 month from the date of receiving the task. Along with the rush in time, the constantly changing requirements make the workload even bigger. Due to the event taking place on a global scale, Viettel also received requests to prepare large resources to accommodate unlimited number of users accessing due to global scale of the event. Therefore, Viettel's technical team had to continuously check and continuously adjust the system accordingly.
It is a fact that Viettel engineers have no experience in 3D exhibition, but in just 1 month, they have done such a miracle. Mr. Doan Dai Phong - Deputy CEO of Viettel Solutions - a member of Viettel Group shared: "Viettel engineers can confidently build a platform that can integrate all requirements of offline exhibitions and online conferencing features, even more preeminent than online conferences held in the past".
According to Mr. Phong, at GSMA's recent online exhibition (Shanghai), the organizers also allow businesses / organizations to register to participate, organize seminars through online and networking forms. At the Connect Tech show of ASEAN held in Singapore, 3D features are also applied, but they have to integrate the products of many other technology partners to create a platform. "As for ITU 2020 organized by Vietnam, the platform developed by Viettel allows exhibitors to completely design their own 3D booth".
Sharing about the organization of ITU 2020, Mr. Phan Tam - Deputy Minister of Information and Communication said: "Over the past years, Vietnam is a rising star in technology, but in other countries, Vietnam is still the outsourcing address. With "Make in Vietnam" products, we want to change the world's perception of Vietnam, a country that is moving fast on the path of mastering technology and creating technology".