Viettel makes first 5G call in Vietnam
13-05-2019 | Viettel Headlines
Military-run telecoms group Viettel announced Friday Vietnam's first 5G call made using an OPPO smartphone during a test run in Hanoi.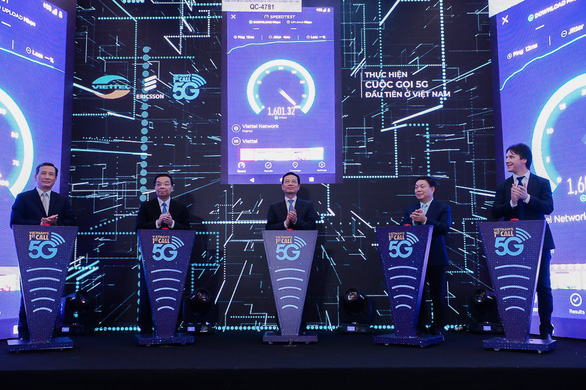 Delegates join a ceremony to launch Vietnam's first 5G call by telecoms group Viettel in Hanoi on May 10, 2019. Photo: T. Ha / Tuoi Tre
End-device connection speed was recorded at 1.5-1.7 Gigabits per second (Gbps), equivalent to that of commercial fiber optic cable and far surpassing the maximum theoretical speed of the 4G LTE network.
Friday's event, joined by Communications Minister Nguyen Manh Hung and Technology Minister Chu Ngoc Anh, put Vietnam on the list of world's first countries to successfully test 5G, Viettel said in a statement.
Sweden's telecoms giant Ericsson was Viettel's key partner in implementing 5G in Vietnam.
5G, short for 5th Generation, is the latest generation of wireless mobile telecommunications technology.
"5G will generate demands for the application of technology among the public, creating a boundless market for tech companies in Vietnam," Minister Hung said Friday.
Viettel's first successful 5G call came less than four months after it was awarded a trial 5G license – the first in Vietnam – in January.
The license allows Viettel to launch 5G services in two of Vietnam's largest cities - Hanoi and Ho Chi Minh City - on a trial basis, the ministry said.
The company is not permitted to collect fees from its 5G users during the trial period, which will end on January 21, 2020.
Wholly owned and run by the Vietnamese military, Viettel is the largest telecommunications company in the Southeast Asian nation with some 60 million subscribers in Vietnam and over 30 million users across 10 other countries - predominantly Asia and Africa.
Vietnam's 5G race is marred by underwhelming mobile data coverage, as less than 45 percent of the country's 133.3 million active mobile users are using 3G or 4G data, according to statistics from the Vietnam National Telecommunications Administration.
More than half of those who use mobile data in the Southeast Asian country are 4G subscribers as it costs the same as 3G while 4G-capable smartphones have become the industry standard.
Viettel says it currently has nearly 17 million 4G subscribers – more than all other mobile network carriers in Vietnam combined – and is adding around one million users every month.
tuoitrenews.vn