VIETTEL OFFICIAL ANNOUNCE ADC SUBMARINE CABLE HAS LANDED IN VIETNAM
19-04-2022 | Viettel Headlines
On April 19, in Quy Nhon, the Military Industry - Telecommunications Group (Viettel Group) officially announced the ADC (Asia Direct Cable) Submarine Cable has landed in Quy Nhon, Binh Dinh, Vietnam.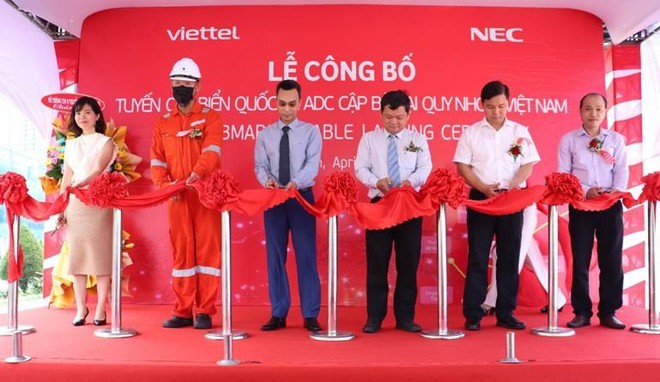 The ceremony to announce the ADC submarine cable has landed in Vietnam
ADC is the 5th Submarine Cable investment to date by Viettel Group, in cooperation with major international telecommunications groups including Singtel, China Telecom, SoftBank, China Unicom, NT, PLDT, TATA Communications to jointly invest and construct the ADC system.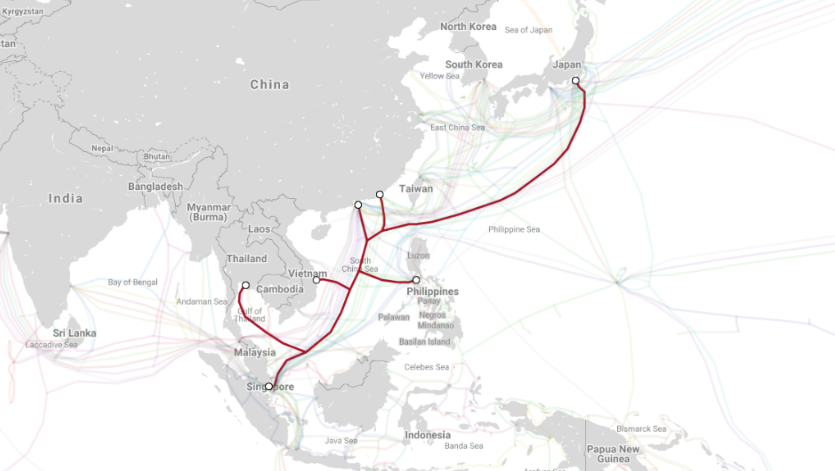 ADC with 7 connection points, including Vietnam
The ADC Submarine Cable has length of 9,800 km, a capacity of over 140 Tbps, using the most modern transmission technology today, helping to connect countries in the Asia-Pacific region with a total initial investment of 290 million USD.
Along with those existing cable system AGG, TGN-IA, APG, AAE-1, the ADC Submarine Cable is expected to add 18Tbps to total international capacity of Viettel Group contributing to providing a large amount of high speed international capacity from Vietnam to the world, meeting the requirement of high speed connection demanding applications to name a few Internet of Things, Automation, Artificial Intelligence, Virtual Reality,.. At the same time, ensuring network redundancy and qualification of all the service provided by Viettel Group simultaneously. Thereby affirming the No.1 position of Viettel Group in terms of Vietnam international infrastructure.
In addition, ADC is also a key national-level infrastructure project, not only to ensure the capacity to develop the digital technology potential, making an important contribution to the country's socio-economic development but also to guarantee the national communications security.
Recently, Viettel Group has completed the construction of the Cable Landing Station of ADC in Quy Nhon, making this city one of the three major telecommunication gateways of Vietnam when this cable is put into operation, along with Da Nang and Vung Tau. Equipped with the most up-to-date technology and equipment, allowing big international data transmission, we believe that Quy Nhon will play a key and important role in the national information network. This will be a great driving force to promote the development of telecommunication infrastructure and technology not only in Quy Nhon but also in all the neighboring cities/provinces.
Doan Dai Phong, Deputy General Director of Viettel Business Solutions Corporation (Viettel Solutions) - a member of Viettel Group, said: "After completing the landing, the undersea cable route ADC will be officially put into commercial exploitation in 2023 by Viettel".
Viettel