Viettel pilots 5G services in Cambodia
23-09-2019 | Viettel Headlines
The Ministry of Posts and Telecommunications of Cambodia (MPTC), Viettel Cambodia Company with Metfone as its brand name, and the MPTC's Telecom Cambodia Company signed a memorandum of understanding (MoU) on piloting 5G services in Cambodia in early July 2019, according to the Military Industry-Telecoms Group (Viettel) on July 9.
With this MoU, Cambodia will be Viettel's first international market using Viettel-provided 5G services.
Under the MoU, the signatories will cooperate in firstly implementing 5G services in Phnom Penh and then expanding the services to other Cambodian cities and provinces.
Metfone is completing the installation and transmission of 5G stations in the Cambodian capital in this July.
Viettel's pilot of the 5G network in Cambodia came after its first successful 5G call in Vietnam. The move was seen as the confirmation that Cambodia could keep pace with the world in mastering and applying the latest technologies.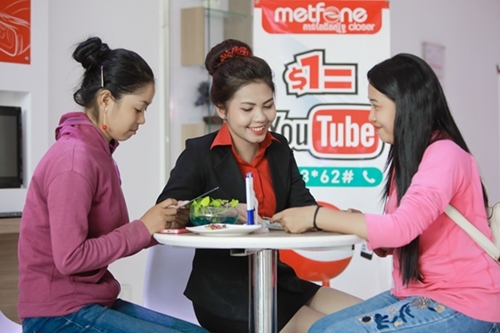 Subscribers registering mobile services of Metfone
Attentively, with the handshake, both Viettel Cambodia and Telecom Cambodia could take advantages of their strength. At present, Metfone, a leading company in Telecoms and Information Technology, has been allowed to pilot the 5G network at the best bandwidth in Cambodia.
Also within the framework of the signing ceremony, the signatories committed to sharing IT infrastructure and investing in telecom services, including e-government, e-medicine, e-education, e-agriculture, smart city, to name but a few.
Addressing the attendees of the ceremony, the MPTC's Minister Tram Iv Tek highly valued the close coordination of relevant sides in pushing up the implementation of 5G services in the country. He stated that the cooperation with Metfone is the first step in developing a 5G network in the coming time.
Last year, as part of Viettel's ecosystem development strategy, Metfone became the first network provider in Cambodia to offer 4.5G services as they installed 100 4G base transceiver stations in Tonle Sap – the poorest and most underdeveloped place in Cambodia. Metfone was also the first provider of eSIM and successful in carrying out eMoney, a breakthrough and revolutionary technology in e-payment.
Metfone remains the MPTC's strategic partner in e-government projects.
qdnd.vn