Viettel to become a digital service provider this year
14-02-2019 | Viettel Headlines
The Military Industry-Telecoms Group Viettel has announced that by the end of 2018, it had had sufficient products, services and ecosystems to become a digital service provider while maintaining its position as a telecommunication service provider over the past nearly two decades.
2018 marked important milestones in Viettel's development as the business was renamed the Military Industry-Telecoms Group and its restructuring plan by 2020 was approved by the Government. In the year, Viettel announced its fourth development stage - a period of Industry 4.0 and global business.
Its total revenue in 2018 reached VND 234 trillion, accounting for 60% of the total revenue of Vietnam's telecommunications industry. Viettel contributed VND 37 trillion to the State Budget, accounting for more than 70% of the total contribution of the sector to the State Budget.
In spite of difficulties facing Vietnam's telecommunication sector, Viettel remains one of the leading businesses in Vietnam. It is listed among top 50 most valuable telecommunications brands in the world, with a valuation of USD 3.178 billion, up by 23.7% compared to 2017.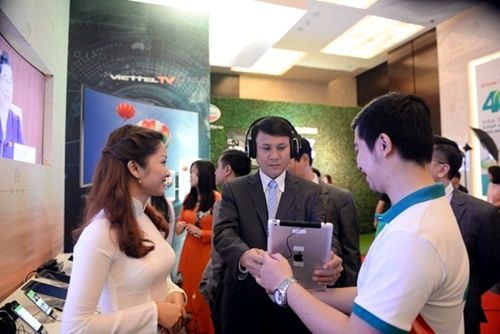 A customer experiences Viettel's telecom product.
In the year, the business further paid attention to international investment and enjoyed a service revenue growth of approximately 20%. With its new 12 million subscribers, Viettel now has more than 110 million mobile subscribers globally. More especially, the military business set a rare record in the world as it had attracted 4 million subscribers only after 6 months operating in the Myanmar market.
This year, the military business has set a target of more than VND 251 trillion of revenue and expected to contribute over VND 38 trillion to the State Budget.
Regarding its fourth development stage, Viettel will focus on 4.0 projects on developing e-government, education, agriculture and smart city from the central to local levels. As a leading telecoms enterprise in Vietnam, Viettel has asked for the Government's permission to develop digital payment services, including financial switching and services of using telecommunications accounts in electronic payment of small values.
Major General Le Dang Dzung, Viettel's Chairman and General Director, said as a leading business in the telecommunications and information technology sector, in 2019 Viettel will focus on providing products and services meeting Industry 4.0 standards and promoting the formation and development of digital government.
qdnd.vn