Viettel topped leading IT enterprises Vietnam
21-09-2018 | Viettel Headlines
On 18/9/2018, Viettel ranked first among the list of Top 50 IT Enterprises in Vietnam by the Vietnam Software and IT Services Association (VINASA) assessment.
To achieve this award, enterprises have been evaluated directly by leading IT experts in Vietnam and appraised at the enterprise's head office. The evaluation committee has been working for more than two months, evaluating and selecting based on rigorous criteria, international standards of technology, quality and management, markets and customers, sales and human resources.
Viettel was ranked first in the list of top 10 Vietnamese enterprises with typical 4.0 technology capabilities in 2018 in the development of technologies: AI, IoT, AR, VR, Big Data, RPA, in 3D … At the same time, the company was voted as one of the top 50 Vietnamese IT companies in the field of software, solutions and IT services.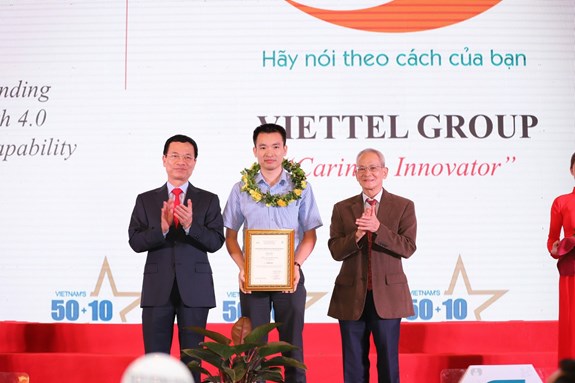 Minister of Information and Communications Nguyen Manh Hung (left) presented the award to Viettel's representative.
The Vietnam's 50 leading IT Companies is an annual event that has been held by VINASA since 2014. The program aims to select, certify and honor top IT firms in Vietnam, as well as promote, introduce and connect business partnerships between these enterprises and potential domestic and international partners.