Viettel well practices thrift, promotes technical initiatives
12-11-2018 | Viettel Headlines
With nearly 30,000 trade union members of 81 trade union chapters, trade union of the Military Industry-Telecoms Group Viettel has always practiced thrift and anti-wastefulness in an effective way, said Lieutenant Colonel Nghiem Thi Minh Tam, a non-commissioned officer and a Viettel's trade union assistant.
Tam said that the Prime Minister has approved a salary-setting mechanism for Viettel. Accordingly, the total turnover minus costs equals to salary fund; therefore, more thrift the group practices, more salary fund it has.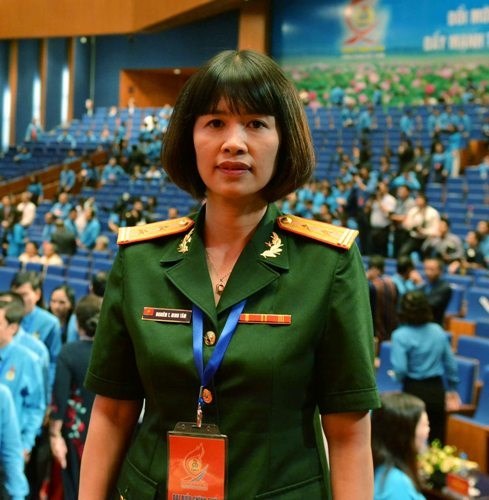 Lieutenant Colonel Nghiem Thi Minh Tam
Actually, such a salary-setting mechanism has inspired Viettel's cadres and workers to practice thrift in such realms as management, production, investment and construction. Besides, the group's staff has well implemented the movement of promoting technical initiatives and improvement. In five years since 2013, Viettel's trade union has had more than 1,600 initiatives, bringing a profit of over VND 1,475 billion. Attentively, thanks to contributions of trade union chapters, trade union members and workers, Viettel has saved more than VND 14 trillion while improving the efficiency of its production and business.
Regarding the achievements of the group's trade union in thrift and anti-wastefulness practice as well as improvement of technical initiatives, Tam attached them to the fact that military trade unions at all levels well performed their staff work to boost effective thrift practice in production and to encourage workers to save time, materials and promote technical initiatives.
With good guidelines, military units have successfully studied topics and products with high economic values. Besides, defense production enterprises have applied technical initiatives and improvement in production, contributing to improving quality of their products and accomplishment of their political missions as well.
Based on the reality of Viettel's trade union, Tam voiced her opinion to the 12th Vietnam Trade Union Congress that the congress will define its goals and measures to boost the thrift practice movement among trade union chapters, trade union members and workers. Besides, management on finance and property of the trade union should be more professional, transparent and opener. And trade union organizations should have strong resources to meet requirements in the current period.
qdnd.vn