What has Viettel done in foreign markets?
14-04-2016 | Viettel Headlines
Over the years, Viettel has achieved certain success in oversea markets using long-term strategies, practical actions, and with the spirit of the soldiers to bring telecommunications into every corner of life.
One typical example of the success of Viettel in these markets is Viettel operator in Mozambique called Movitel with their ongoing effort. Almost a year after going into operation, Movitel network infrastructure has become the operator with the largest coverage, far exceeding the 2 biggest competitors (Vodacom and Mcel) who have been there for a long time before; Movitel has been bringing the Internet and mobile phones to everyone in the remote areas. Currently, Movitel has achieved 38% market share and become the leading telecom operator. Mozambican President expressed appreciation Viettel's investment as well as social responsibility: "This is the first time that many areas in Mozambique were connected to telecommunication services, consequently Viettel has great contribution to the implementation of socio-economic development of Mozambique and strategies for poverty reduction here."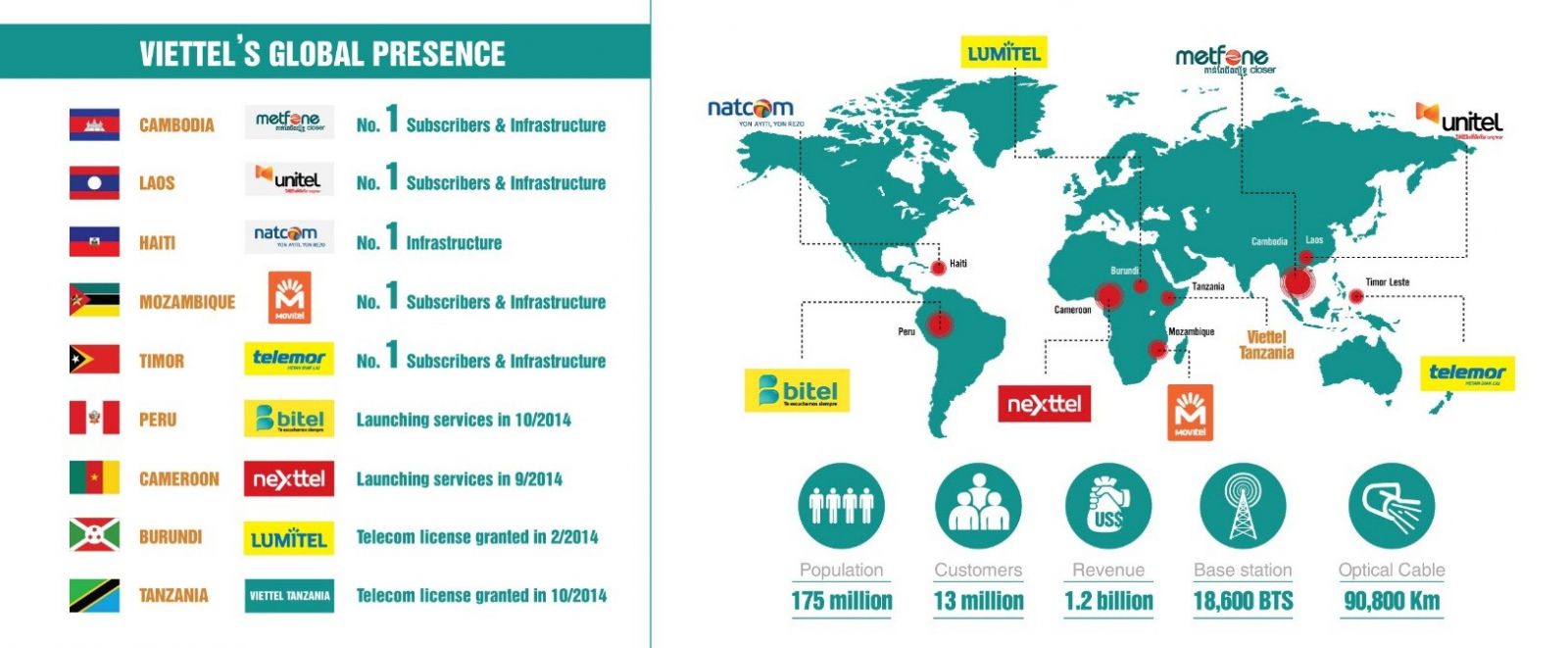 Viettel currently owns 9 foreign markets
In Laos, Unitel operator has become top 1 in the telecommunications market here. Unitel also overcame many big names to award the best telecommunication company among the emerging markets at The World Communication Awards (WCA) in 2012. Unitel has been so successful due to the strategy of focusing on the 80% of people in rural areas as the target market rather than concentrated in urban areas as most of the other networks did. Unitel's existing network has covered 98% of the population.
Only in 2015, Viettel has opened new services in Tanzania (Halotel) and Burundi (Lumitel). Lumitel brand is one of the networks with the highest growth of subscribers while Tanzania is the most populous among the markets which Viettel has invested. Revenue from foreign operations of Viettel has reached nearly $1.5 billion, with a 25% growth.
In addition to Viettel's utmost spirit, Viettel has been constantly creating new ways of selling, unique products and services to help overcome difficulties and bring success to the company. In 2015, thanks to the spirit of "Viettel people" and the new sales methods, Viettel Group has achieved a revenue of 238 trillion, reaching 102.5% of the fiscal's year plan with a growth rate of more than 20.8%.
A new opportunity has opened for Viettel in early 2016 as the Myanmar's government has officially issued a license for Viettel Group to bring telecommunications services in this country. This is both an opportunity and a challenge for Viettel in the way of becoming top 20 operators in the world. The experiences Viettel has after many years of doing business in other foreign markets will surely help Viettel to success in this new market as well.