Network providers urged to up 3G service
11-10-2016 | Vietnam Telecom
The quality of Viet Nam's 3G network service is not low, as was written in recent reports published by global mobile application providers, who evaluate the speed of internet networks and mobile internet throughout the world.
Among these providers were Amakai, OpenSignal and Ookla, according to Nguyen Duc Trung, headof Viet Nam Telecommunications Authority.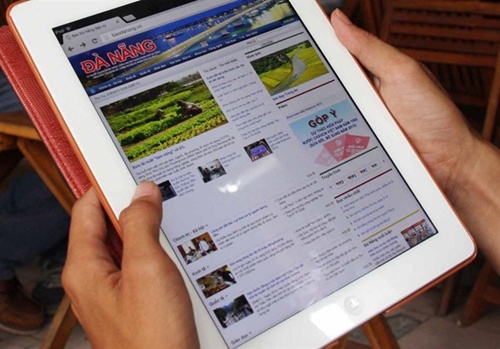 Amakai's internet report for Q1/2016, the last report issued for Akamai, showed that the average speed of Viet Nam's mobile internet in the first quarter of the year was 2.6 Mbps, with a peak speed of 29.7 Mbps.
Further, Viet Nam had an average mobile network speed of 3.81 Mbps, ranking 82 out of 95 countries. As such, Viet Nam was positioned nearly at the bottom in the Asia-Pacific ranking, just above New Caledonia, with its average and highest speed at 2.2 Mpbs and 26.4 MBps, respectively.
Trung said that his authority had earlier checked 3G network quality, determining that the speed was even higher than in the analysis of global mobile application providers.
Trung attributed the reason for the poor analysis to network providers. Network operators often narrow their service packages once service capacity has been used up. This may influence the average speed of 3G services.
Further, Trung said, in the near future network providers would deploy 4G services.
If, however, network providers did not increase the quality of service and offer new kinds of service packages, they would receive poor assessments from global mobile application providers, thus having a poor influence on the image of Viet Nam's telecoms sector.
Pham Hong Hai, deputy minister of information and communications, said the image of Viet Nam's investment climate would also be influenced if 3G service quality was given a negative evaluation.
Hai said if network providers really did their jobs well, the authority would not need to issue a document to require them to provide their best efforts and improve the quality of service.
According to the ministry, Viet Nam is now home to 30 million 3G subscribers. Of them, 50 per cent are using the VND70,000 monthly service package, causing a narrowing of the speed after the capacity has been used up.
Bui Son Nam, deputy general director of Mobifone, said that currently 50 per cent of Mobifone's subscribers were using the VND70,000 monthly service package to avoid extra expenses. The VND70,000 service package, offering 600Mb of 3G data, allows clients to use 1.6GB of 3G data on their high-speed Internet. However, they are not allowed to use the service after using up the capacity provided. Currently, Mobifone has narrowed the speed to 128Kbps. At such a speed, internet users complain about slow service.
Additionally, Pham Ngoc Tu of Vinaphone said about 60 per cent of Vinaphone's 3G service subscribers are using VND70,000 service packages. When clients use up the package, they are often informed by text messages, though most ignore the messages, thinking they are spam.
Nguyen Viet Dung, general director of Viettel Telecom, said 50 per cent of 3G subscribers of Viettel were now using the VND70,000 service packages and his company was facing the same situation as other network providers, though customers complain about slow service.
VNS