Viettel Group's Vice General Director become councilman of V-KIST
24-01-2017 | Viettel Headlines
On 18/01/2017, Prime Minister promulgated the Decision No. 63 approving the list of 11 members of the Vietnam-Korea Institute of Science and Technology Council (V-KIST). Mr. Nguyen Dinh Chien – Vice General Director of Viettel Group is one of fourth commissioners.
Mr. Chu Ngoc Anh – Minister of Vietnam's Ministry of Science and Technology (MOST) holds the presidency of the Council and Vice Minister Mr. Pham Dai Duong holds vice chairman position.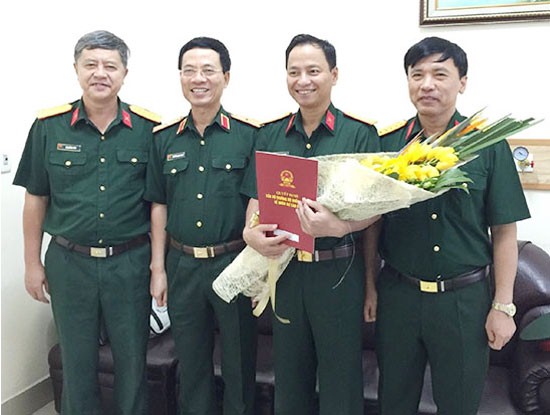 Mr. Nguyen Dinh Chien – Viettel Group's Vice General Director became councilor of V-KIST
The remaining members of V-KIST includes:
Prof. Dr. Nguyen Huu Duc – Vice director of Vietnam National University Hanoi.
Prof. Dr. Nguyen Quang Liem – Director of the Institute of Materials Science, - Vietnam Academy of Science and Technology.
Prof. Dr. Le Huy Ham - Director of Institute of Agricultural Genetics;
Prof. Dr. Truong Nam Hai, Institute of Biotechnology, Academy of Science and Technology of Vietnam;
Mr. Nguyen The Phuong - Vice Minister of Planning and Investment
Mr. Huynh Quang Hai - Vice Minister of Finance Huynh Quang Hai.
Mr. Do Tuan Dat - Chairman and CEO of Vaccines and Biological limited company.
Mr. Nguyen Dinh Chien - Vice General Director of Viettel Group.
According to Decree No.50 of Government dated on 18/5/2015, V-KIST was established based on the Agreement between the Vietnam Governments and Korea Governments. V-KIST, which was organized under the Ministry of Science and Technology Vietnam, has headquarter located in Hanoi. V-KIST has right to open branches and representative offices abroad if it's necessary. This institution performs to develop source technology, research to upgrade the modern technology for strategic industries; develop national products, strategic products; develop integration technology to replace imported technology; and perform other specific tasks that is indicated in the Charter of organization and operation.
The organizational structure of V-KIST includes the board of the Institute Council, one Director and Vice Directors, Council for Science, R&D departments. In particular, the board of Council is the competent authority which decides growth strategy, research orientation; organization of affiliates; promote or dismiss Director of V-KIST; and monitor all the activities of V-KIST.
Decree No.50 stipulates that at the newly established Institute, the Prime Minister decided the chairman and members of the Council Board on the basis of suggestion from the Ministry of Science and Technology Vietnam. After appointing Director, Vice directors and the Scientific Council board runs well, the Institute Council will be organized and operated under the Charter of the organization.
V-KIST will occupy approximately 200,000 square meters of continuous space in the Hoa Lac Hi-Tech Park with a total budget of 70 million USD, in which South Korea will contribute 35 million USD for infrastructure construction, equipment, consultancy, and training. According to South Korean experts, V-KIST will offer lavish remuneration and deserved respect for Vietnamese scientists, especially oversea experts having proficient experiences at outstanding institutes or universities in developed countries.