VN leads weekly trend of accessing online video
12-10-2016 | Vietnam Telecom
Viet Nam leads the weekly trend of accessing online video, with 92 per cent of respondents saying that they accessed online video on a weekly basis, Nielsen reported.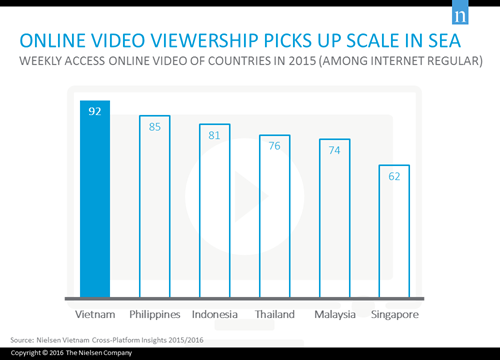 Countries following Viet Nam include India (87 per cent), Philippines (85 per cent), Indonesia (81 per cent), Thailand (76 per cent) and Malaysia (74 per cent).
The Nielsen Viet Nam Cross-Platform Insights Report 2015 provides a comprehensive view of the way Vietnamese consume digital media in today's cross-platform environment.
"Vietnamese viewing habits are changing, thanks to the digital infrastructure in Viet Nam. Today, the growth of online video options where viewers can download or stream content from an online source is creating extensive opportunities for consumers, who have greater control than ever before over what they watch, when they watch and how they watch," Doan Duy Khoa, Nielsen Viet Nam's director of Consumer Insights, said.
"For audiences, advertisers and content providers alike, advantage will increase, through an in-depth and keen understanding of not just how consumer viewing dynamics are changing, but why they are changing," he added.
Online video audiences are beginning to complement prime time TV during the evenings. According to the report, video content consumption peaked in the mid evenings from 8pm to 10pm.
Online video streaming is growing primarily on smartphones. In 2015, 62 per cent of Vietnamese Internet users used smartphones to watch online videos, compared with just 39 per cent in 2014.
Streaming online video via tablets also increased from 15 per cent in 2014 to 18 per cent in 2015.
Nearly 60 per cent of Vietnamese Internet users continued to stream on desktops and laptops. However, streaming online video on desktops and laptops reduced drastically year-on-year, from 91 per cent in 2014 to 58 per cent in 2015.
Even as broadcast TV networks continue to be the key content source for movies and TV station-produced content, streaming of long-format movie video content is very popular among Vietnamese Internet users.
Movies dominate the type of video-on-demand content watched in Viet Nam. Ninety-seven per cent of respondents in Viet Nam who watch on-demand content said they view movies, followed by on-demand entertainment programmes, news/current affairs from local TV networks, music shows/music videos and overseas drama series, as well as lifestyle, local drama series and local sport available on local TV.
However, those who prefer news, current affairs, overseas premium sports content and lifestyle content continue to stream only short clips or segment highlights of these programmes.
VNS