Vietnam's Viettel harbours global ambitions
20-05-2016 | Viettel Headlines
Not content with being the top telco in Vietnam, Viettel aspires to tussle with the industry's global players and carve out a niche in the international space.
HANOI: In communist Vietnam, one telecommunications giant is defying the stereotype of the bloated and inefficient state-owned enterprise (SOE). While many such organisations are mired in debt and graft scandals, military-owned Viettel Group is charting a global expansion path, with annual revenue ballooning from a modest US$2 million in 2000 to US$11 billion last year.
Wholly-owned and operated by Vietnam's Ministry of Defence, Viettel dominates the country's mobile market with its 52 per cent share of subscribers. Distant runner-ups Mobiphone and Vinaphone, also state-owned but under different ministries, account for 18 per cent of the market each.
Not content with being No 1 at home, Viettel has a presence in 10 other emerging markets from Cambodia to Cameroon. Its latest push is a US$1.5 billion investment in neighbouring Myanmar, announced in April, joining a local consortium that is set to win the country's fourth and last telecom licence.
This expansion begs the question: Why has Viettel succeeded when some other SOEs have struggled?
"We're a state-owned company, but we work like a private company," said Viettel Group's second-in-command, Deputy General Director Le Dang Dung (pictured below). Dressed in a dark suit and tie, the Major-General is no typical Vietnamese army man. At his Hanoi office, he spoke to Channel NewsAsia in fluent English with the relaxed confidence of a businessman used to unscripted interviews.
FORGET TOP DOG TAG
Vietnam's SOEs are notorious for rigid hierarchies that make personnel movements difficult or impossible. But at Viettel, one can be head of company or department today and an ordinary staff tomorrow if people have shortcomings. "No problem," Dung said. The determining factors are performance and behaviour, which has to fit the company culture, he added.
This flexibility only applies to middle management at Viettel's 22 subsidiary companies, however. At its main headquarters, the government selects top leaders like 57-year-old Dung and these roles do not change hands easily.
"I always think it's some kind of luck," Dung said of the selection of state appointees at Viettel, which has "become a very strong team". He used the Vietnamese phrase "thiên thời địa lợi nhân hoà", translated to mean the "favourable combination of climate, geography and people".
Asked to describe company culture, Mr Dung pointed to a Viettel brochure laid out in the company colours of teal, mustard and white. It spells out six core values topped off by "value innovation" and "change is a norm". "Innovation means new thinking about an old issue. Passive agreement means decline," it stated.
"We always tell our people we have to forget we're No. 1," Dung said, "Because when you're at the top, it means you're going down."
One of its not-so-secret weapons is military discipline, said economic consultant and former advisor to the Vietnamese government Mr Bui Kien Thanh. "It's practically run as a military operation," he said. Combined with the technological prowess, expertise and vast resources of Vietnam's defence ministry, these become a recipe for success.
There is little public data on the performance of Vietnam's state-owned enterprises. Advisory firm Indochina Capital estimated that 80 per cent of total SOE revenue in 2015 was generated by what could be called Vietnam's big nine - conglomerates that dominate the state-owned sector in industries across the board from oil and gas to rubber and textiles.
The same estimate showed Viettel accounting for nearly 20 per cent of the big nine's combined revenue and more than half of combined profits – testimony to just how effectively Viettel is operating, said Indochina Capital CEO Peter Ryder. "People have spoken about Viettel almost reverentially for many years in terms of its profitability," he said.
VEIL OF SECRECY
Viettel generated US$10.8 billion in revenue and US$2.1 billion before-tax profit in 2015, despite its African arm incurring US$116 million in losses, according to local media. The telco attributed the losses to volatile foreign exchange rates in the region and that early-year losses in several African markets newly set up in 2014 and 2015 – Tanzania, Burundi and Cameroon – were expected.
An 18-per-cent profit margin is commendable for a telco in any market, if the numbers are accurate, said Marc Djandji, head of institutional sales at Viet Dragon Securities.
His caveat comes as Viettel's finances and bureaucracy are shrouded in secrecy. Financial reports are not available to the public and the company uses Vietnamese accounting standards, which offer no real basis for comparing figures with those of its international counterparts.
"One would hope that if and when Viettel ever does go public, the veil would be lifted and we would have an opportunity, potential investors would have an opportunity to really look carefully at a good set of books," said Indochina Capital's Ryder.
NO PRIVATISATION PLANS YET
Viettel has no plans to privatise in the foreseeable future though, Dung told Channel NewsAsia.
"We still have some tasks, duties that are given to us by the government, but I cannot tell you [what they are]," he said with a smile, adding that subsidiary companies like Viettel Global, the group's international investment arm, are being privatised "now".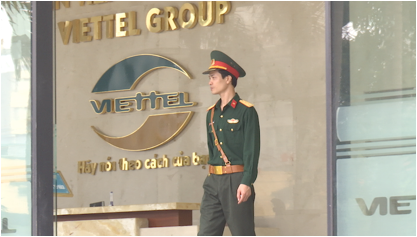 Tight security at Viettel Group's headquarters in Hanoi. (Photo: Do Khuong Duy)
Viettel Global has the status of a joint-stock company, a private company with multiple shareholders in legal terms, but 98 per cent of total shares belong to parent company Viettel Group.
This state of affairs comes as no surprise. The government is more interested in selling their stakes in the less profitable SOEs first and holding on to the crown jewels, Ryder said.
Consumers do not seem to mind either, so long as the service is excellent, said former government advisor Mr Thanh. The few who have the means may wish to buy into a share of Viettel's profits, but the majority of Vietnam's 92 million people probably don't yet.
Privatisation – or what Vietnam calls equitisation – could be a possibility for Viettel five or 10 years from now, when the military no longer sees the need to manage its commercial operations. "We cannot say never," Mr Thanh said.
EMERGING MARKETS KEY TO GLOBALISATION STRATEGY
SOEs have been at the helm of Vietnam's economy for decades but the large, and generally inefficient, sector is slowly but steadily on the wane. Government statistics show the state-owned sector's contribution to GDP falling from 38 per cent in 2001 to 33 per cent in 2012, while the private sector's steadily grew.
However, the fortunes of the state sector in general may be irrelevant to Viettel and its military bosses, whose prospects are bright both at home and abroad. In Vietnam, just over a third of the population own a smartphone. More inevitably will, and Viettel - with the country's widest coverage and the first to pilot 4G services - is well placed to capture this growth.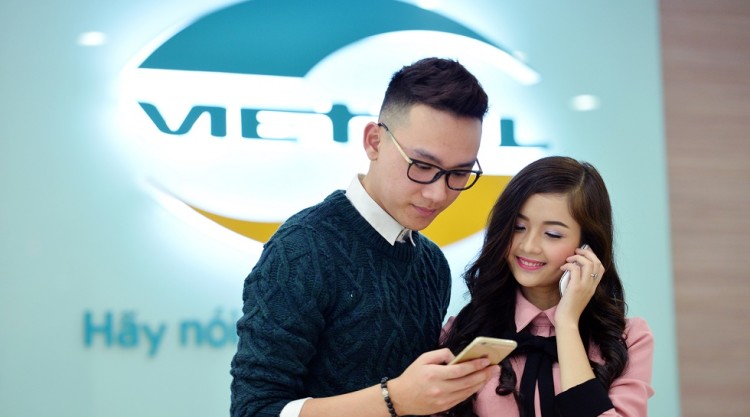 About one-third of Vietnam's 92 million people own a smartphone. (Photo: Do Khuong Duy)
Known as Metfone in Cambodia, Unitel in Laos, Movitel in Mozambique and Telemor in Timor Leste, Viettel claims the No. 1 mobile market share in these four markets and the widest transmission network infrastructure in three others – Burundi, Tanzania and Cameroon.
It plans to expand to as many as 25 countries covering 800 million potential subscribers by 2020 to hit a 15 per cent annual growth target.
Striking out overseas is necessary, Mr Dung said, because Viettel's home competitors are "not so strong". It wants to take on world leaders like the UK's Vodafone, South Africa's MTN Group, and India's Bharti Airtel. "If we can compete with them, we can compete with everybody," he said.
The focus is on emerging markets in Asia, Africa, and Latin America, where Viettel's vision of ubiquitous telecom services can be fulfilled by its ability to offer some of the cheapest mobile services in the world. Monthly subscriptions with free voice calls to two numbers go for as little as US$2.20 in Vietnam.
"We make mobile service like a commodity, like water, rice – everybody needs it," Mr Dung explained. "Before us, everybody thought mobile was only for rich people."
channelnewsasia.com