Viettel's success – Illustration for the strong integration of Vietnamese enterprises
15-06-2016 | Viettel Headlines
By investment in 10 countries through 3 continents (Asia, Africa, America), Viettel Group has become one of the clearest illustration for the ability of Vietnamese enterprises's strong integration.
Only after 10 years investing abroad (started with Campuchia in 2006), now, Viettel has gained profitable margin in 6/10 markets which it seeded. Just in 2015, its revenue from foreign markets rose to $1,5 billion (USD).
Recently, Viettel has been classified as the biggest telecommunication brand in Vietnam, recorded in TOP 5 best performing telecommunication brands of ASEAN (Association of Southeast Asian Nations) and TOP 100 most valuable telecommunications in the world with brand value of 1 billion USD.
It is the motive of outreach with reasonable business strategies that helps Viettel achieved remarkable successes in less than one decade.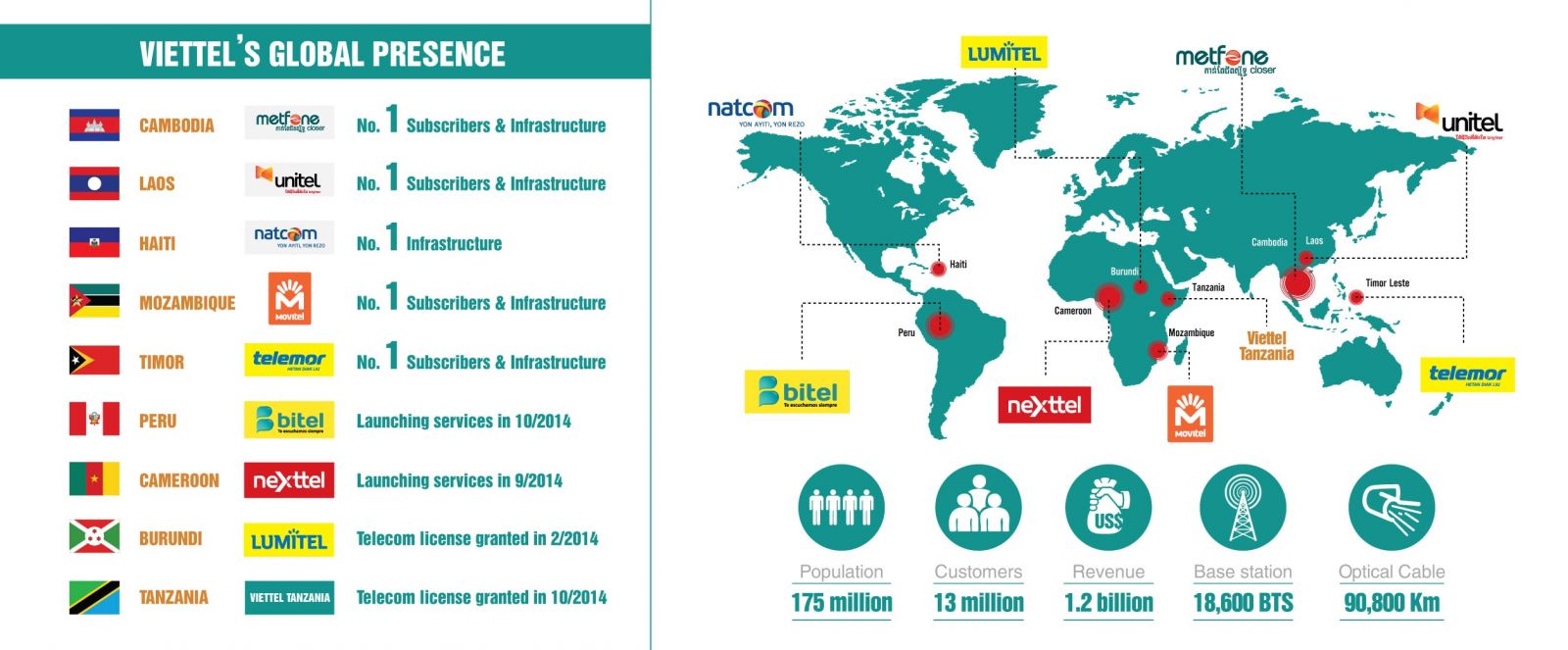 Determining the markets
Since the moment that Viettel looked toward the oversea markets, Mr. Nguyen Manh Hung, Viettel Group's General Director showed that it is needed to evaluate, quantify and determine that the world's telecommunications markets were divided in 3 categories, including undeveloped markets with 20% population coverage, developing markets with more than 50% population coverage and saturated markets with population coverage up to 70-80%.
As to saturated markets (developed countries), the possibility to entry is almost impregnable owing to the domination of the largest telcos.
Meanwhile, in undeveloped countries (like Cuba, North Korea…), the market scope is not big, so the ability to develop is low and unstainable. Therefore, developing markets (mainly in Africa) with low ARPU (average revenue per user), big population of more than 1 billion, will be potential, and suitable markets for Viettel.
Thanks to that orientation, Viettel has come up rapidly. Since the first brick placed in Campuchia in 2006, Metfone- a brand of Viettel in Campuchia- began its operation in 2009; and in 2011 (5 years later) Viettel brought its first profitable margin of 40 million to its motherland, that amount was bigger than its cost to this country.
Campuchia market is also considered as "the goose that lays golden eggs" for Viettel Group of which brand value in Campuchia – Metfone - costs 800 - 900 million USD.
After that, in 2009, the Unitel brand was built in Laos; in 2013 it was Telemor in East Timor.
The voyage to conquer global markets of Viettel has never stopped, it expands business to Africa, starting with 4 countries: Mozambique, Cameroon, Tanzania and Burundi, to America with two countries: Haiti and Peru.
Lately, Viettel has officially received the fourth telecom license in Myanmar which is its tenth market.
Signal coverage first, then comes business.
According to many economic specialists, with each market, each continent, Viettel has proper policies based on extensive and intensive investment, focusing on undeveloped areas, looking for those have not received access to telecommunication, paying attention to the development of the market's culture and society.
Especially, Viettel Group determines its philosophy of investment is to build infrastructure of BTS and network for a best coverage first, with priority in remote areas, then to start business.
"Our business philosophy in general and investment strategy in particular concentrate in looking for ways to bring the services to everyone." said Mr. Le Dang Dzung, Vice General Director - responsible for the oversea investment of Viettel Group.
Following that, the long-term investing strategy of Viettel is to guarantee the network all over the country, best quality of services and proper business policy for each local. Then, depending on each specific market, Viettel will push fastly, and strong investment in infrastructure construction to lead the market with best quality and network coverage. Parallely, Viettel promotes its sale widely to offer the services to everyone.
Besides considering the efficiency of the investment, Viettel also optimizes its investing costs, especially in the workforce in foreign markets. As a matter of fact, the Group build agendas to train and allocate the exploration - operation to local people in order to gradually return Vietnamese worker to the country. It also reviews possibilities to optimize smart devices produced in Vietnam to use in foreign markets as a way of cost savings.
Set big and long-term goals
For a more sustainable development, Viettel has set big, long-term goals as motivation for its production and business activities, in which international investment is considered as one of the three pillars of Viettel Group.
In 2020, Viettel is expected to be a worldwide group as one of the ten biggest telcos in the world, a complex of research, development and production for both civil and military purposes; to invest in 20- 25 countries all over the world (1-2 new markets per year); to achieve a revenue growth by 20-25% and to recover investment costs after 3-5 years. Last but not least, Viettel determines that in the near future, it must be in TOP 3 telcos in the market which it invests.
For the time being, Viettel's gross revenue in overseas keeps growing by 25% per year owing to its 75 million customers in 10 countries with a population of 260 million.
The case of Viettel indicates that Vietnamese enterprises are capable of joining global competition if they can set for themselves a goal with flame of effort.
Viettel International