Viettel launches its 10th international mobile phone service in Myanmar
11-06-2018 | Viettel Headlines
Viettel Group's 10th international mobile phone network, Mytel, commenced operations in Myanmar on Saturday.
Mytel, the fourth mobile phone operator in that country, has said it wants to become the biggest in the country in terms of both infrastructure and business.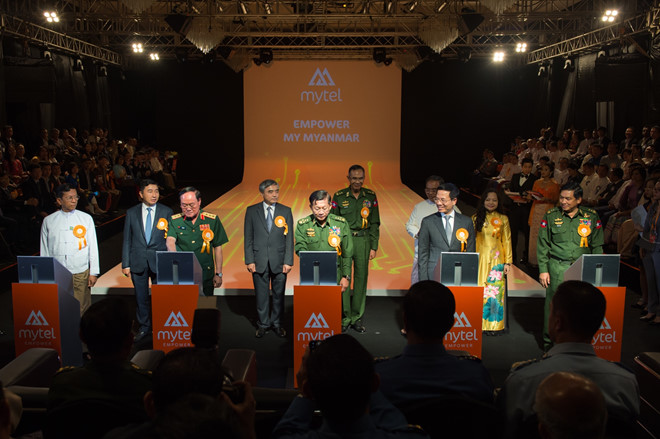 Mytel commenced operations in Myanmar on June 9.
It is the only network with a customer service channel with video calling in Burmese, English and Shan, the language of the 6-million strong Shan people. Other networks only have Burmese and English.
It already has in place more than 7,000 4G base transceiver stations (BTSs) and over 30,000km of fibre-optic cable that cover the entire nation, enabling it to provide a diverse range of services such as smart agriculture solutions (Nextfarm), traffic signal management system (Smart Light), an electronic wallet, route surveillance equipment and more.
Nguyen Thanh Nam, general director of Mytel, said: "Our goal is to create an information super-highway with a nationwide 4G infrastructure which will enable Myanmar and its people to join industry 4.0.
"As we did in other international markets, Viettel targets ranking first in mobile broadband."
Speaking at the Mytel grand opening ceremony, dubbed "Empower my Myanmar", Senior General Min Aung Hlaing, commander-in-chief of Myanmar's armed forces, said: "[This] is an important landmark in Myanmar's history as well as in the co-operative relationship in the information and communication technology sector between Myanmar and Viet Nam.
"With the experience and technology of Viettel Group, a successful mobile phone service provider in nine countries around the world, I strongly believe the Mytel joint venture will be successful too.
"I also believe that, importantly, Mytel will promote growth in telecom and develop human resources in Myanmar."
Mytel also plans to spend US$80 million in the next 15 years on corporate social responsibility programmes, with 80 per cent of the money used to support education.
Internet at schools will be the first community project with a promise of bringing free broadband internet to 1,535 schools across the country.
It will also sponsor the International Computers Contest for three years and help develop education management software.
Myanmar is Viettel's biggest foreign market in terms of population (53 million) and the one with the highest economic growth rate (7 per cent). It is expected to be a major growth story for Viettel.
Mytel faces challenges since telecom services are already used by 75 per cent of the population, calling and data rates are cheap, and competition is fierce.
"Major challenges await Viettel but we are confident of competing with the other mobile service providers in Myanmar thanks to our experience in nine other international markets and effective and flexible business strategies," Nam said.
At the grand opening ceremony, Viettel Group announced its no-international-roaming-fees policy in Myanmar for its subscribers in Viet Nam, Laos and Cambodia and vice versa, the first of its kind in the world.
As of Mytel's opening, Viettel Group's registered overseas investment is over US$2 billion. It has repatriated profits of $516 million to Viet Nam.
VNS